Matco-Norca Expands Industrial Products Line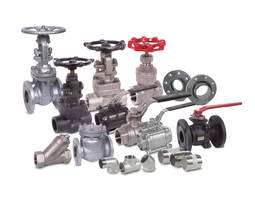 Company Offers Full Selection of Industrial Grade Stainless Steel & Carbon Steel Valves & Fittings/Nipples
Brewster, NY, August 21, 2017 – Matco-Norca has expanded its line of industrial grade products with the addition of stainless steel and carbon steel valve offerings as well as stainless steel fittings and nipples. Industrial products from Matco-Norca also include actuated direct mount ball and butterfly assemblies provided by SVF Flow Controls.
Valves
Industrial valves include a wide range of stainless steel and carbon steel one, two and three-piece ball valves in both full and reduced port, two piece, full port forged lead free brass ball valves and flanged ball valves, Class 800 forged gate valves, globe valves and check valves, 150 lb. cast steel gate, globe & check valves, and 316 stainless steel gate, globe and check valves. These are available in a range of valve sizes from 1/4" up to 2" with flanged ball valves from 1" up to 6".
Fittings
Industrial fittings include 150 lb. 316 stainless steel fittings, Class 2000, 3000 and 6000 forged steel fittings and forged steel branch outlets in both threaded and socket weld configurations, and 304/316 stainless steel and Schedule 80 seamless nipples in valve sizes from 1/8" up to 4" diameter. Weld fittings and flanges are available in standard weight and extra heavy weight in sizes from 2" up to 12."
Direct Mount Packages
Actuated direct mount ball and butterfly valve assembly packages from SVF Controls include stainless steel EZ-Tork actuated packages in full port with L and T-port options. There is also the Streamline SL Series actuated package with a ductile iron body and 316 stainless steel disc, available in either lug or wafer design. Direct Mount packages range in valve size from 1/4" up to 12".
Commitment to Quality
Matco-Norca's industrial products are sourced from longstanding global partners and made to industry specifications in order to meet all requirements. Matco-Norca has created a special Industrial Products section on its website at www.matco-norca.com. About Matco-Norca
Matco-Norca, headquartered in Brewster, NY, is a leading supplier of globally sourced, code compliant Plumbing and PVF products for use in residential, commercial and industrial applications. In business for over 60 years, Matco-Norca operates four national distribution centers and select regional warehouses. www.matco-norca.com.
For More Information Contact:
Melissa Hunt,
Matco-Norca,
More from Fluid & Gas Flow Equipment