Matchstiq™ S12 SDR Platforms are integrated with 1PPS GPS receiver.
Press Release Summary: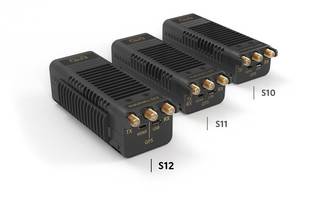 Suitable for signal processing IP in 2G/3G/4G cellular survey, RF sensing and security applications, Matchstiq™ S12 Software Defined Radio Platforms provide 1 MHz to 6 GHz RF transceiver tuning range and up to 50 MHz RF bandwidth. Designed with Ethernet, USB 2.0 OTG and HDMI ports, units are embedded with Quad-core ARM Cortex A9 CPU. Featuring pre-select filters covering 400 MHz to 6 GHz, product comes with Platform Development Kit.
---
Original Press Release:
Epiq Solutions Announces the Matchstiq™ S12 Software Defined Radio Platform
Epiq Solutions, an engineering firm specializing in the development of flexible RF transceiver modules and complete turnkey wireless sensing solutions, has announced the Matchstiq™ S12, an expansion to the popular Matchstiq family of software defined radio (SDR) platforms. The Matchstiq S12 builds on the popular Matchstiq S10, providing a small form factor quad-core embedded Linux computer coupled with an RF transceiver solution capable of tuning from 1 MHz to 6 GHz.
The Matchstiq S10, S11 and S12 platforms are ideal for use with Epiq Solutions signal processing IP including 2G/3G/4G cellular survey, RF sensing and security applications, or to provide a versatile platform to develop and execute customer applications. A Platform Development Kit (PDK) is available to support both custom software applications as well as custom FPGA enhancements.
The Matchstiq S12 platform system provides the following features:
RF transceiver tuning range of < 1 MHz to 6 GHz (1 Rx + 1 Tx)
Up to 50 MHz RF bandwidth Seven band Rx pre-select filters covering 400 MHz to 6 GHz (sub-octave)
Integrated Rx channel selection filters when tuned between 1 MHz and 200 MHz
Integrated Xilinx™ Spartan®-6 LX45T FPGA for signal processing tasks
Quad-core ARM Cortex A9 CPU @ 800 MHz (i.MX6) running Linux
Integrated GPS receiver with 1PPS
Gigabit ethernet, USB 2.0 OTG, and HDMI ports for external interfacing
Platform Development Kit (PDK) to support custom software/FPGA application development
"Matchstiq S12 fills a longstanding void in the small form factor radio space, providing an extended RF tuning range and filtering options to support our customers' real-world deployment requirements," stated John Orlando, CEO at Epiq Solutions. "Our Matchstiq product line continues to lead the pack when it comes to achieving an optimal balance of flexibility, performance, and SWaP-C, and we're excited to further expand on its capabilities."
Epiq Solutions' Matchstiq platforms provide an ideal small form factor radio platform to enable mobile applications. When combined with signal processing frameworks such as GNU Radio or REDHAWK, Matchstiq supports countless capabilities including use as an agile point-to-point modem, cellular survey tool, distributed RF sensing, or portable spectrum analyzer. Development kits are available for end users who want to create their own custom applications.
The Matchstiq S12 is in production and new orders are currently being accepted. In addition to Matchstiq S12, Matchstiq S10 provides one receiver and one transmitter while the Matchstiq S11 provides two receivers in a phase coherent pair, both covering a 70 MHz to 6 GHz range. For more information on the Matchstiq family, please visit http://www.epiqsolutions.com/matchstiq/
About Epiq Solutions
Epiq Solutions is a company focused on developing state of the art software defined radio platforms and sensors that push the limits of small form factor, integration and low power consumption. These products are used by customers around the world in multiple business sectors, including commercial, research and security/defense applications. In addition to radio platform expertise, Epiq Solutions specializes in developing integrated RF sensing products and signal processing applications that run on these platforms. These applications leverage decades of experience in the commercial wireless industry, enabling unique capabilities that support 2G/3G/4G cellular as well as other commercial wireless communications standards. For more information regarding Epiq Solutions' products and services, please visit http://www.epiqsolutions.com.
Contact Information
847.598.0218
More from Electrical Equipment & Systems