MasterWorks Ultra 100 Whiteback™ CRB is made from 100% recycled content.
Press Release Summary: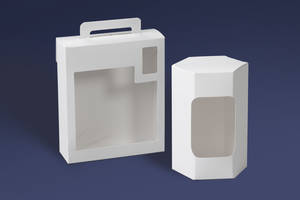 Having high brightness on both front and back sides in multiple grades, MasterWorks Ultra 100 Whiteback™ provides moisture resistance for storing refrigerated, frozen foods and beverages. Product is stiff and has improved strength-to-weight ratios than traditional CRB. Product is compliant to Food and Drug Administration.
---
Original Press Release:
PaperWorks New Folding Carton Provides Brand Owners with Disruptive 100% Recycled Alternative to Traditional Virgin SBS Structures
Food, personal care, household product and healthcare marketers will now have access to a new 100% recycled content, coated recycled board (CRB) folding carton alternative with characteristics not previously possible.
The proprietary new MasterWorks Ultra 100 Whiteback™ from PaperWorks is the first CRB to offer multiple characteristics and performance attributes similar to SBS, including high brightness of both front and back sides. MasterWorks Ultra 100 Whiteback™ is the first offering in a new folding carton line that is expected to ultimately include multiple grades for a variety of applications—including those that need moisture resistance such as refrigerated and frozen foods, as well as beverages.
"Our goal was to push performance boundaries for CRB cartons. We wanted give brand owners and private label companies many of the attributes they have come to enjoy from virgin grades, but do so with 100% recycled content fibers. We believe that for the first time there is a viable CRB alternative to SBS which will help product marketers support their environmental initiatives, while still getting the performance and visual attributes that are critical in brand positioning," said Brandon Clairmont, senior vice president, packaging sales and marketing, PaperWorks.
In addition to being cost competitive to virgin grades, the new carton line has a comparable look, offers excellent printability and delivers desired filling line attributes. This includes front and backside brightness equal to or better than SBS, as well as lighter caliper and lower basis weight without sacrificing performance. MasterWorks Ultra 100 Whiteback™ also offers more stiffness and improved strength-to-weight ratios than traditional CRB.
MasterWorks Ultra 100 Whiteback™ is also Food & Drug Administration compliant for direct food content and meets the Recycled Paperboard Alliance's 100% recycled paperboard symbol licensing requirements. It is also Forest Stewardship Council certified.
About PaperWorks Industries, Inc.
PaperWorks Industries is a leading, integrated North American full-service provider of recycled paperboard and specialized folding cartons for packaging applications. The company also is committed to the highest sustainable forestry and procurement standards. Product certifications include the Forest Stewardship Council (FSC) and 100% Recycled Paperboard Alliance (RPA100). For more information: www.paperworksindustries.com.
Media Contact:
Brandon Clairmont
PaperWorks Industries
+1 (215) 984-7008
brandon.clairmont@paperwrks.com
More from Material Handling & Storage