MasterCard and Zwipe Announce the Launch of the World's First Biometric Contactless Payment Card with Integrated Fingerprint Sensor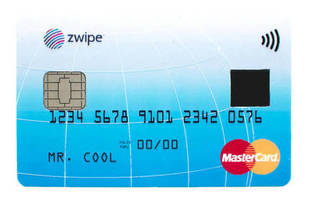 London - MasterCard and Zwipe has announced their partnership for the launch of the world's first contactless payment card featuring an integrated fingerprint sensor.



The launch of the card comes after a successful live pilot with Norway's Sparebanken DIN, aligned to the Eika Group, as an answer to the complex challenge of providing a fast, convenient payment solution that does not compromise on security.



The Zwipe MasterCard payment card is the world's first fingerprint authenticated contactless payment card. It includes an integrated biometric sensor and the Zwipe secure biometric authentication technology that holds the cardholder's biometric data. It contains an EMV certified secure element and  MasterCard's contactless application.



The card is the first of its kind to combine the security of biometric authentication with the speed and convenience of contactless payment. Cardholder fingerprint data is stored directly on the card, not in an external database. After activation by a simple fingerprint scan, the Zwipe MasterCard card can be used to make contactless payments. The biometric authentication replaces the PIN entry, thus enabling cardholders to make payments of any amount, unlike other contactless payment cards on the market.



Zwipe is now working on the next generation of its card that will be the same format as a standard card and designed to work with all payment terminals for release in 2015. This new card will harvest energy from the payment terminals without the need for a battery.



Speaking about the launch, Ajay Bhalla, President of Enterprise Security Solutions at MasterCard commented "Our belief is that we should be able to identify ourselves without having to use passwords or PIN numbers. Biometric authentication can help us achieve this. However, our challenge is to ensure the technology offers robust security, simplicity of use and convenience for the customer. Zwipe's first trial is a significant milestone and its results are very encouraging."



Ajay Bhalla, continued: "Safety and security in everyday payments is at the heart of MasterCard's business. We will continue to work with innovators, like Zwipe, to ensure we stay ahead of fraudsters and provide a seamless payment experience, as ultimately it is consumers who decide how they choose to pay."



Kim Humborstad, founder and CEO of Zwipe, added, "Feedback from our pilot with Sparebanken DIN has been very positive. Cardholders love how easy the card is to use with the added security feature. We have also had exceptionally good feedback from retailers participating in the pilot. This pilot enabled the partners to gather valuable customer feedback, experience and best practice for the enrolment and deployment phase."



"We will offer biometric authentication and contactless communication for all our cards since it combines convenience and security for both our cardholders and merchants" said Morten Danielsen, Business Development Director, Sparebanken DIN.



Pictures, illustrations and video clips can be accessed on

https://app.box.com/s/38vs5ulh5rggorqsqtyn



About Zwipe

Founded in 2009, Zwipe is a fast growing company in the center of a quickly evolving industry. Zwipe has a strong portfolio of Patent Applications and is continually developing more. The Zwipe product is a contactless card with which users authenticate themselves not through something they know (pin/code) or solely carry (a standard card) but through something they are (their fingerprint). The card is based on an NFC (Near Field Communication) platform with no external database containing sensitive information as the fingerprint data is only stored inside the Zwipe card. To learn more about Zwipe, please visit www.zwipe.com or follow Zwipe on Twitter @zwipe.



About MasterCard



MasterCard (NYSE: MA), www.mastercard.com, is a technology company in the global payments industry. We operate the world's fastest payments processing network, connecting consumers, financial institutions, merchants, governments and businesses in more than 210 countries and territories. MasterCard's products and solutions make everyday commerce activities - such as shopping, traveling, running a business and managing finances - easier, more secure and more efficient for everyone. Follow us on Twitter @MasterCardNews, join the discussion on the Cashless Pioneers Blog and subscribe for the latest news on the Engagement Bureau.



Media Contact



MasterCard contact:



James Thorpe         

email: James_thorpe@mastercard.com         

T (+44) 7807 378265



Zwipe contacts:

Fredrik Gulowsen          

email: fredrik@zwipe.com          

T (+47) 91889494



© Copyright 2014 Brigham Scully. All rights reserved.







More from Packaging Products & Equipment