Master Bond EP3HTSDA-1 for Die Attach Applications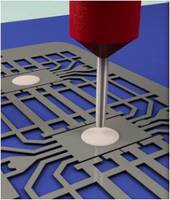 Premier die attach epoxy EP3HTSDA-1 features a very impressive thermal conductivity of 40-45 BTU•in/(ft²•hr•°F), substantially higher than other silver conductive epoxies. This video demonstrates how Master Bond EP3HTSDA-1 is dispensed and applied to a defined area without any tailing.
Watch Video on EP3HTSDA-1: http://click.skem1.com/click/koc3k-cbupji-13mg5467/
Updated Electronic Industry Catalog
This 36-page catalog has been recently updated to include the latest developments to Master Bond's extensive line of epoxies, silicones, polyurethanes, silicate based systems, light curing compounds and film adhesives. These products provide solutions to PCB assembly, die-attach, conformal coating, surface mount, lid sealing, flip-chip and wire bonding applications.
Download Now: http://click.skem1.com/click/koc3k-cbupjk-13mg5469/