Master-Bilt Adds New Product to Fusion Line: The Chef Base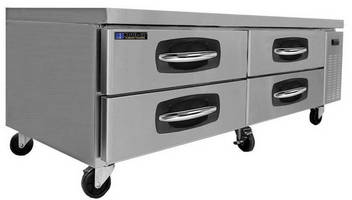 With four models available, we cover every "base" with this line!

NEW ALBANY, MS - Master-Bilt is proud to introduce the next product in the Fusion Series: Chef Bases. These durable bases are designed to make the most of available work space in foodservice establishments.

The MBCB models' heavy-duty construction allows them to serve dependably as bases for countertop grills, fryers, char broilers, warmers and other cooking equipment. All four models feature stainless steel exterior and interior and 4-inch diameter casters for mobility. Each model also has a full marine drip guard to prevent spills dripping over their edges. The drawers, equipped with ergonomic handles, can withstand a minimum of 200 pounds. All drawers can accommodate 4-inch deep, 12 x 20-inch pans in a variety of combinations.

As for refrigeration, the Chef Bases have self-contained forced air refrigeration systems with high humidity evaporator coils coated to resist corrosion. Automatic defrost is also standard. An exterior digital temperature display allows for easy monitoring of cabinet temperatures.

Master-Bilt offers a four-year extended warranty with compressor, and one-year limited parts and labor. For more information, please go to www.master-bilt.com.

ABOUT MASTER-BILT

Master-Bilt, a member of the Standex Food Service Equipment Group and in business for over 70 years, offers a complete line of refrigerated coolers and freezers for commercial foodservice applications. Their Energy Saver program helps users to quickly identify Master-Bilt features and options that reduce energy usage. Visit www.master-bilt.com/products/energy_saver.htm for more information. Master-Bilt's markets of specialty include: restaurants, convenience stores, dairies, warehousing and drug stores.