Mass Spectrometer monitors processes in real time.
Press Release Summary: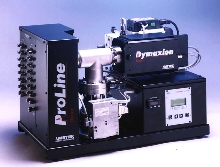 Compact Dycor® ProLine Series benchtop instrument is available with up to 16 inlet ports for sampling process streams and calibration gases. System includes multi-port automatic valve switching, inlet manifold, turbomolecular pumping package, and choice of closed ion source analyzers. Applications include semiconductor process gas monitoring, fermentation/bioreactor analysis, catalytic reactions, bulk gas analysis, and pilot plant process profiling.
---
Original Press Release:
Ametek Process Instruments Introduces Dycor® ProLine Series Process Mass Spectrometers

Latest Dycor® Product Offers High Performance in Compact, Affordable Package

PITTSBURGH, PA - The new Dycor® ProLine Series of process mass spectrometers from AMETEK Process Instruments offers features and a level of performance usually associated with more costly mass spectrometer systems.

The ProLine Series are compact, bench-top mass spectrometers that provide real-time process monitoring and control in an affordable package. Features include exceptional mass resolution, least cost-per-sample point, flexible design, user-defined data presentation, and high sample rate and data throughput.

Available with up to 16 inlet ports for sampling process streams and calibration gases, the easy-to-use ProLine Series is fully automatic, providing unattended operation with one-button start. The compact ProLine system comes complete with multi-port automatic valve switching, inlet manifold, turbomolecular pumping package, and choice of Dycor closed ion source analyzers.

This versatile quadrupole mass spectrometer determines the amount of different gas species in a sample by providing data output in concentration units (PPM, %, etc.) rather than just ion current or partial pressure. Automatic calibration and calibration verification features allow it to quantify the amount of gas species in a sample and maintain the sensitivity and stability of the analyzer.

The ProLine Series is an affordable solution for a wide range of process gas analysis applications, including semiconductor process exhaust gas monitoring, fermentation/bioreactor off-gas analysis, catalytic reactions, temperature programmed desorption, bulk gas analysis, pharmaceutical solvent drying and lyophilization monitoring, gas scrubber efficiency, fuel cell research and development, and laboratory/pilot plant process profiling.

The Dycor ProLine Series results from AMETEK's 20 years of experience in mass spectrometer design and manufacture, combined with its more than 30 years experience in the process analyzer business. AMETEK Process Instruments is a unit of AMETEK, Inc., a leading global manufacturer of electronic instruments and electric motors.

For more information on the ProLine Series or other Dycor process mass spectrometers, contact AMETEK Process Instruments, 150 Freeport Road, Pittsburgh, PA 15238. Phone: (412) 828-9040. Fax: (412) 826-0399. Web site: www.ametekpi.com
More from Laboratory and Research Supplies and Equipment