Mass Flowmeters/Controllers feature gas composition firmware.
Press Release Summary: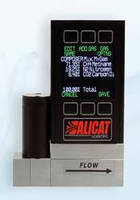 Alicat mass flowmeters and flow controllers come with Gas Select v5.0, which includes COMPOSER utility for programming and directly storing up to 20 gas compositions; users can define gas compositions to 0.01% for each of up to 5 constituent gases. Library offers up to 130 preloaded full gas calibrations, referenced to NIST Prop 9, and utility for defining mixed gas is also included. Solution also provides gas mixes commonly used in various industries.
---
Original Press Release:

Alicat Releases Gas Select(TM) 5.0 Firmware for Its Mass Flow Meters and Controllers



Newly added Gas Select COMPOSER™ defines personalized gas compositions for highly accurate mixed gas flow measurement



Tucson, Arizona – Alicat Scientific has expanded its Gas Select™ firmware to include a library of up to 130 preloaded gases, referenced to NIST Prop 9, and an industry-first utility for defining mixed gas compositions. New to Gas Select 5.0, the COMPOSER utility gives users the ability to quickly program and store up to 20 personalized gas compositions directly on Alicat mass flow meters and mass flow controllers. With COMPOSER's capabilities, Alicat devices adapt to a range of applications and users' changing needs.



The Gas Select firmware comes standard on all Alicat mass flow meters and controllers. Version 5.0's expanded library now includes up to 130 preloaded full gas calibrations, depending on the Alicat instrument series. In addition to many pure gases, Gas Select 5.0 includes numerous gas mixes commonly used in bioreactor, welding, manufacturing, power, refrigerant and medical industries. The library has also been updated to include complete NIST Ref Prop 9 gas properties data for the preloaded gases and gas mixes.



A brand new feature of the Gas Select upgrade is the addition of the COMPOSER module, which brings a new level of customization and flexibility to accurate mixed gas measurement. Using the device's integrated digital display, users can define gas compositions to 0.01% for each of up to five constituent gases. Up to 20 gas mixes can be created and stored simultaneously on each device. Users who operate Alicat instruments via computer can generate gas lists for multiple devices in seconds with single line RS-232 commands. As personalized gas compositions can be added or deleted quickly, Alicat instruments easily adapt to different flow needs in the future.



To learn more about the Alicat mass flow meters and controllers using Gas Select 5.0 software with COMPOSER visit www.alicat.com/composer, or call +1 520 290-6060.



To find an archive of Alicat news, visit the Alicat News Blog at http://www.alicat.com/alicat-blog/



Company Profile:

Part of the international Halma group, Alicat Scientific designs and manufactures mass flow devices used in medical and scientific instrumentation, as well as diverse industrial applications, for high-precision measurement of gas and liquid flows. Its all-digital product range includes mass and liquid flow meters and controllers; pressure gauges and controllers; portable flow meters; secondary calibration standards; software and accessories.



A Halma Company



Issued by:

Alicat Scientific

7641 N. Business Park Drive

Tucson, AZ 85743 USA

Tel: +1 520.290.6060

Fax: +1 520.290.0109

Email: info@alicat.com



Website: www.alicat.com



Press Contact:

Lisa Wallner

Halma Holdings PR Services

11500 Northlake Drive, Suite 306

Cincinnati, OH 45249

Tel: +1 513.898.8005

Fax: +1 513.898.8006

Email: lisa.wallner@halma.com

Website: www.halmapr.com



Halma PR Profile:

Halma PR Services provides a range of media relations services to support Halma plc subsidiaries. Halma subsidiaries operate world-wide and make products for hazard detection and life protection.



Follow Halma PR on:      Follow Halma PR on Twitter       Follow Halma PR on LinkedIn       Follow Halma PR by RSS

More from Materials