Mass Flow Meters offer integral batch control.
Press Release Summary: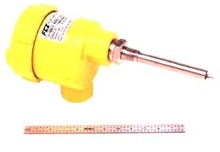 FlexCOR(TM) CMF Series features ASIC design and processes multi-parameter information including mass flow, volumetric flow, density, temperature and fraction-flow. Series comes in 5 flow sizes ranging from 1/16 to 2 in. Measuring range can be as low as 0.1 lbs/min with CMF-A to over 1900 lbs/min with CMF-F. Designed with continuous, seamless tube, CMF units withstand pressure loads up to 6760 psig. All sensors are intrinsically safe to Ex ia IIC.
---
Original Press Release:
Modular FlexCOR Mass(register trademark) Flowmeter With Sophisticated Integral Batch Control

Intrinsically Safe for Food/Beverage, Pharmaceutical and Specialty Chemicals

San Marcos, CA - Representing the next giant leap in Coriolis measurement technology, the new modular FlexCOR (register trademark symbol) Mass Flowmeter CMF Series from Fluid Components Intl features advanced technology for unsurpassed performance, safety, and reliability.

With a dedicated Application Specific Integrated Circuit (ASIC) design, the FlexCOR CMF Series Flowmeter supports high-speed integral batch control. The food/beverage and pharmaceutical industries require accurate recipe control, which often necessitates multi-parameter measurement, inline mixing and adaptive batching at high speed. The CMF Series processes multi-parameter information that includes: mass flow, volumetric flow, density, temperature and fraction-flow. It facilitates accurate dosing of various additives and ingredients--from a few grams/hour to tons/hour.

Based on a modular design, the state-of-the-art FlexCOR CMF Series is fully configurable. Both software and hardware can be easily converted. A universal signal module platform allows individual functions to be retrofitted via an "add-on" module containing optional functions. After installation, the module is automatically detected and programmed to factory settings through a SENSORPROM flow memory unit. This platform also accommodates a wide variety of communications protocols, including HART, Profibus, Fieldbus, Can-Open and more.

Hardware modularity is made possible with a standardized interface between the sensor and the signal transmitter. Plug connectors are identical for all sensors and transmitters. The result is a streamlined product range, simplified ordering, flexible spares management and substitution simplification.

Designed with a continuous, seamless tube that is the thickest in the industry, the CMF Series withstands high-pressure loads of up to 6760 psig (460 bar). All sensors are intrinsically safe to Ex ia IIC, meeting the industry's toughest challenges. Connections available are NPT, ANSI Flanged, tri-clamp and others upon request.

The CMF Series comes with a wetted flow tube of all stainless steel or optional Hastelloy C-22. There is a version with an intrinsically safe keypad that allows the flowmeter and transmitter to operate directly in hazardous areas. For rugged environments, the CMF Series meets IP67 weather-proof and water-tight specifications.

The FlexCOR CMF Series comes in five flow sizes ranging from 1/16 inch [1.5mm] to 2 inches [40mm] with a choice of three different transmitters. Measuring range can be as low as 0.1 lbs/min with the CMF-A to over 1900 lbs/min with the CMF-F. Fluid temperature range is -58 to 356 degrees F (-50 to 180 degrees C).

Highly accurate, the flow error is typically 0.1% of rate and the flow repeatability error is 0.05% for all models. Accurate density measurement and temperature measurement may also be generated with the FlexCOR. Brix and other fraction flow outputs are also available.

Temperature error is 0.5C, and Brix error is as low as 0.1 degree Brix depending on model configuration.

Fluid Components Intl is a global company committed to meeting the needs of its customers through innovative solutions to the most challenging requirements for sensing, measuring and controlling air, gas, liquid, flow, level and temperature.

More from Architectural & Civil Engineering Products