Mass Emissions Monitor offers portable operation.
Press Release Summary: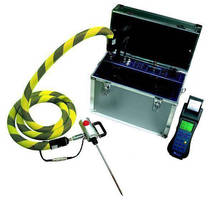 GreenLine 8000LBH simultaneously measures stack gas concentrations, velocity, and temperature to then calculate, record, graph, and report mass emissions in lb/hr for gases including CO, NO, NO2, True NOx, SO2, CO2, and H2S. It has low NOx and true NOx (NO+NO2) capabilities and offers CO sensor dilution with auto-ranging up to 10%. Other features include built-in peltier chiller with automatic water drain, heated probe and hose, and Bluetooth based remote control and display unit.
---
Original Press Release:

GREENLINE 8000LBH



Just Released! GREENLINE 8000LBH

Portable Mass Emissions Monitor

NOx Lb/h (NO+NO2)

SO2 Lb/h

CO Lb/h

CO2 Lb/h

Volumetric Flow

Mass Flow

Gas Velocity

With a unique and specially designed sampling probe, the GreenLine 8000LBH portable mass emissions monitor and combustion gas analyzer can simultaneously measure stack gas concentrations, velocity, and temperature. This portable instrument takes the measured gas parameters to then calculate, record, graph, and report mass emissions in lbs/hour for multiple gases including CO, NO, NO2, True NOx, SO2, CO2 & H2S.

Other features of the GreenLine 8000LBH include the following:

o Low NOx and True NOx (NO+NO2) Capabilities

o CO Sensor Dilution with Auto-Ranging up to 10%

o Built-In Peltier Chiller with Automatic Water Drain

o Heated Probe and Heated Hose

o Remote Control & Display Unit with Bluetooth Wireless

o Long-Term Emissions Monitoring

o PC Software with Real-Time Graphing, Reporting, and Logging

For additional information, please contact E Instruments' GreenLine department,
Attention:
Bill Freed,

172 Middletown Blvd.,

Suite B201,

Langhorne,

PA 19047

Phone: 215-750-1212,

Fax: 215-750-1399

Email: bfreed@einstrumentsgoup.com,

Website: www.einstrumentsgroup.com

Sherri Twer
Marketing Coordinator
E Instruments Group
172 Middletown Blvd
Suite B201
Langhorne, PA 19047
Tel: (215) 750-1212
Email: stwer@einstrumentsgroup.com OR Info@einstrumentsgroup.com
Web: www.einstrumentsgroup.com

More from Agricultural & Farming Products