Masking Tape for Painters features ultra-smooth backing.
Press Release Summary: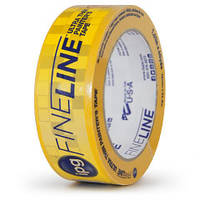 Providing precision paint lines while preventing paint bleed and edge build up, FineLine™ Ultra Thin Painter's Tape consists of moisture-resistant, washi-type paper masking tape with stain-resistant, pressure-sensitive synthetic rubber adhesive that adheres firmly and securely to most surfaces. This bright yellow masking tape can be used on walls, windows and trim, hardwood floors, as well as lacquered and laminated surfaces and offers clean removal for up to 7 days.
---
Original Press Release:
Intertape Polymer Group® Launches Fineline(TM) Ultra Thin Painter's Tape
MONTREAL, QUEBEC and SARASOTA, FLORIDA — Intertape Polymer Group® Inc. ("IPG®" or the "Company"), a leading manufacturer of tapes and films, has launched its new FineLineTM Ultra Thin Painter's Tape.

FineLine Ultra Thin Painter's Tape is a moisture-resistant, washi-type paper masking tape with a stain resistant, pressure-sensitive synthetic rubber adhesive specially designed to adhere firmly and securely to most surfaces. The ultra-smooth backing helps alleviate discomfort felt when taping with coarse crepe paper masking products.

FineLine is designed to provide precision paint lines while preventing paint bleed and edge build up. It can be used on walls, windows and trim, hardwood floors, lacquered and laminated surfaces, and provides excellent conformability and clean removal up to seven days.

"This is a unique product that stands out on the shelf and really catches the consumer's eye," states Brandon Paas, IPG Consumer Marketing Manager. The bright yellow tape and packaging sets itself apart amidst all the blue and tan masking tapes you find at most stores."

"We are excited to offer this new premium masking tape to the industry," states Joe Tocci, IPG Senior Vice President of Consumer Sales. "FineLine represents advancements in strength and perfomance that sets the user satisfaction bar to new heights. Aside from the precision paint lines and the prevention of paint bleed and edge buildup, FineLine's low profile and smooth texture makes taping for paint projects a breeze and allows for some of the best paint lines in the industry."

For more information regarding FineLine Ultra Thin Painter's Tape and other consumer products, please contact Brandon Paas at bpaas@itape.com.

About Intertape Polymer Group® Inc.
Intertape Polymer Group® Inc. is a recognized leader in the development, manufacture and sale of a variety of paper and film based pressure-sensitive and water-activated tapes, polyethylene and specialized polyolefin films, woven coated fabrics and complementary packaging systems for industrial and retail use. Headquartered in Montreal, Quebec and Sarasota, Florida, the Company employs approximately 2,000 employees with operations in 17 locations, including 12 manufacturing facilities in North America and one in Europe.

FOR INFORMATION CONTACT:
Brandon Paas
Consumer Marketing Manager
bpaas@itape.com
More from Software