Masking Process eliminates material buildup on collets.
Press Release Summary: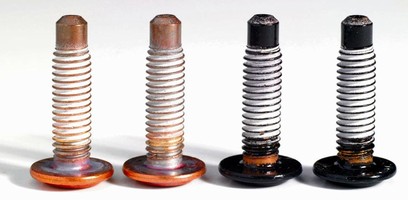 NYCOTE® NYCREST(TM) coats root and flank of thread without coating crest, which provides solid metal-to-metal contact between thread and collet. It protects against thread contamination from electrodeposited paints, primers, coatings, and adhesion of weld spatter on Drawn Arc Weld Studs. Nonconductive WHITE® 98% TEFLON® PFA powder coating also adds lubricity to fasteners, reduces torque vs. tension scatter, and achieves known and repeatable clamp load.
---
Original Press Release:

New NYCOTE NYCREST Eliminates Material Buildup on Collets



The unique new NYCOTE® NYCREST(TM) masking process from Nylok Corporation coats the root and flank of the thread without coating the crest, which provides solid metal-to-metal contact between the thread and collet and eliminates material buildup on collets.

The patented NYCOTE NYCREST branded coating offers guaranteed protection against thread contamination from electrodeposited paints, primers, coatings and adhesion of weld spatter on Drawn Arc Weld Studs. It also eliminates expensive masking, plugging or capping of threads and the costs associated with collet replacement and lost production. The revolutionary NYCOTE® process - a non-conductive WHITE® 98 percent TEFLON® PFA powder coating applied to threaded fasteners - offers the industry's most complete and effective thread masking and protection. There is no need for "slave" bolts and re-tapping, which can compromise quality and safety. The process also adds lubricity to fasteners; reduces torque vs. tension scatter; achieves known and repeatable clamp load, and guarantees good electrical grounding.

NYCOTE NYCREST has potential applications in such industries as agricultural, automotive, appliance, electronics, HVAC, machinery, marine, outdoor power equipment, recreation equipment and telecommunications manufacturing.

Nylok Corporation, a member of the Marmon group of companies, holds more patents for innovative fastener technology than any other company and has built a reputation throughout the world for "iNNYvation" in developing new products that solve challenges.

For more information, visit the Nylok home page at www.nylok.com.

TEFLON® is a registered trademark of E.I. DuPont de Nemours & Company, Inc.

The color WHITE® PFA is a registered trademark of Nylok Corporation.

For: NYLOK CORPORATION, 15260 Hallmark Drive, Macomb, MI 48042

More from Fluid & Gas Flow Equipment