Marley® MBX EZ Pack Fill Wins Plant Engineering Magazine's 2018 Product of the Year Award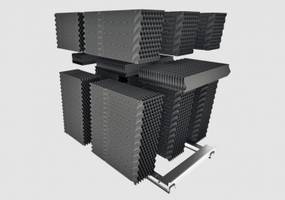 Annual reader-choice program showcases top new products
Overland Park, Kan. – SPX Cooling Technologies, Inc., a full-line, full-service industry leader in the design and manufacture of cooling towers and other specialized heat exchangers, announces Marley® MBX EZ Pack Fill has been selected as a winner of Plant Engineering magazine's Product of the Year (POY) awards in the Maintenance Tools and Equipment category.
The 2018 Product of the Year program is a premier award for new products in the manufacturing and non-manufacturing industries. The annual reader-choice program, now in its 31st year, provides Plant Engineering's audience with information about leading new products in their fields. Qualified subscribers of CFE Media, including plant engineers, plant managers, maintenance supervisors and manufacturing leaders, vote on the winners. Award winners will be celebrated in April at the annual Engineering Awards in Manufacturing dinner in Chicago.
Marley MBX EZ Pack Fill is a high-performing, bottom-supported, two-piece PVC pack specifically designed for cooling tower maintenance projects. The replacement fill system simplifies handling and installation, so maintenance is fast and easy without requiring major tower modifications.
Available in various height dimensions and air travels (from 48–60 inches), the MBX EZ Pack Fill system is stackable for modular towers, adaptable for various slope conditions, and easy for the contractor to stock and cut to size. The steel bottom support structure is easy to assemble and requires no hardware.
Thermoformed from inert PVC for long service life and minimal maintenance, the MBX EZ Pack Fill incorporates highly efficient cellular drift eliminators and louvers, which are integrally molded into the fill sheets. Drift eliminators and louvers help achieve low drift rates, retain water within the cooling tower and ensure precise air distribution throughout wide variations in airflow.
For more information, visit www.spxcooling.com.
About SPX Cooling Technologies, Inc.:
SPX Cooling Technologies, Inc. is a leading global manufacturer of cooling towers, evaporative fluid coolers, evaporative condensers and air-cooled heat exchangers providing full-service cooling solutions and support to customers in the heating, ventilation and air conditioning (HVAC), power generation, petrochemical, industrial, and refrigeration markets for nearly a century. SPX Cooling Technologies and its product brands are part of SPX Corporation. For more information, please visit www.spxcooling.com.
About SPX Corporation:
SPX Corporation is a supplier of highly engineered products and technologies, holding leadership positions in the HVAC, detection and measurement, and engineered solutions markets. Based in Charlotte, North Carolina, SPX Corporation had approximately $1.4 billion in annual revenue in 2017 and more than 5,000 employees in 14 countries. SPX Corporation is listed on the New York Stock Exchange under the ticker symbol "SPXC." For more information, please visit www.spx.com.
Contact
Hannah Babcock
SPX Cooling Technologies, Inc.

Marketing Communications Specialist
hannah.babcock@spx.com
T: 913-664-7496
More from Machinery & Machining Tools