Marking/Coding Printer suits factory environments.
Press Release Summary: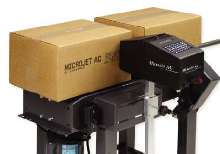 MicroJet Alpha Coder (AC) prints alphanumeric characters on corrugated and other porous material and has throw distance exceeding that of high-resolution printers. It provides up to 45 messages in one- to 5-line format with total print height of 1.9 in. and max single-character height of .9 in. Able to produce millions of characters from one bottle of ink, printer is suited for factory environments that require higher-resolution printing.
---
Original Press Release:

­MicroJet AC Launch


Loveshaw is pleased to announce our newest Marking/Coding product, the MicroJet Alpha Coder (AC). The system delivers the reliability of the MicroJet line combined with low-cost, higher-resolution printing.

The unit is perfect for printing alphanumeric characters on corrugated as well as other porous material and has a throw distance greater than high-resolution printers. This printer also offers print height flexibility that is unmatched in the industry.

The MicroJet AC provides up to 45 messages in a one to five-line format with a total print height of 1.9" and a maximum single character height of .9" giving customers the speed and flexibility they require for their packaging lines. You'll get millions of characters from a single bottle of ink and a greater throw distance than high-resolution printers.

The MicoJet AC simplifies the way customers print alphanumerics, improves the quality of print as well as drastically lower their cost-per-print and ink usage requirements. The system is a superior fit for factory environments that require higher-resolution printing and a cost savings on ink consumption.

The MicroJet AC list price is $3,495.00 complete. Ink for the MicroJet AC is AlphaMark which is available in the following sizes.

Alpha-Mark Black Ink; LF-S31142-01; 500ml bottles; $240.00 per bottle

Alpha-Mark Black Ink; LF-S31145-01; 125ml bottles; $255.00 per 4-pack

Alpha-Mark Black Ink; LF-S31145-03; 125ml bottles; $70.00 individual bottle

For information about any of our products for forming, sealing, labeling, and coding, see Loveshaw's home page at www.loveshaw.com or contact your Loveshaw Regional Sales Manager.

Valerie Burke
Marketing
Loveshaw, an ITW Company
1-800-572-3434
Route 296, Box 83
South Canaan, PA 18459

More from Electrical Equipment & Systems