Marine Vessel Management System delivers real-time information.
Press Release Summary: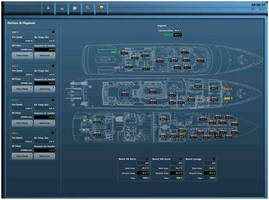 Used to manage critical assets and information, KEP IVMS (Intelligent Vessel Management System) gives recreational boaters complete monitoring and control via real-time information and alerts for safe boating. PLCs, which offer flexibility and customization needed to manage, control, and monitor onboard systems, can be retyped upon change in circuit design or sequence. System can also generate SMS texts and or emails based on event triggers or alarms as well as take corrective action.
---
Original Press Release:

KEP Marine Launches Intelligent Vessel Management System



Innovative Electronics Leader's Modular and Flexible IVMS Allows Simple Monitoring and Management of Critical Onboard Information



Eatontown, N.J. – Kessler-Ellis Products (KEP) – the manufacturer of industry-leading type approved displays and computers, announced today its new range of Intelligent Vessel Management Systems, the KEP IVMS. Used to manage critical assets and information in the most organized and functional way possible, the IVMS is the ideal solution to give recreational boaters complete monitoring and control, and the real-time information and alerts for peace of mind and safe boating.



The KEP IVMS is available in three configurations, the IVMS, IVMS Pro and IVMS Unlimited and offers solutions for any application and budget. At the heart of the systems are Programmable Logic Controllers (PLCs), which offer the flexibility and customization needed to manage, control and monitor a wide array of onboard systems. Easy to install, the space efficient and easy-to-program PLCs can be quickly retyped if there is a change in circuit design or sequence, saving considerable time and cost.



"Using our extensive experience in automation and control products, we developed the open platform, fully scalable, customizable KEP IVMS range without the inherent issues of other products on the market such as proprietary hardware, predetermined configuration choices and node limitations," said Scott Russell, senior applications engineer, KEP Marine. "Our vessel management systems allow complete monitoring and control of any number of sensors, and electrical and electronic devices on board."



The standard IVMS package provides a wealth of information and is not restricted like other solutions. It is designed specifically for vessels under 50 feet and includes a display, control panel, terminal block kit and choice of 16 monitoring selections. Practical yet full featured, the IVMS is used to monitor and manage the most critical onboard information on the bundled KEP sunlight-viewable 7-inch touchscreen display. The IVMS Pro includes all of the features of the IVMS package as well as an expanded HMI software package and additional monitoring selections that enhance the system's capabilities. IVMS Pro allows for multiple station interfaces, remote viewing, full engine monitoring and switching of electrical circuits. The IVMS Unlimited is the ideal system for offshore and long-range boaters. Featuring customizable alarm monitoring and control capabilities with an industry leading graphics selection, the Unlimited system can provide monitoring and control of all systems on a boat for even the largest vessels with up to 10,000 controllable measuring points.



Using logic controllers, the IVMS system supports automatic control sequences and can be used to manage any number of systems including pumps, bilges, carbon dioxide detectors, smoke detectors and actuators, to name a few. They can even be set up to automatically take corrective action. The system is structured on an Ethernet-based platform and supports most standard industry communication protocols and remote I/O, which facilitates easy connection to third-party systems and hardware. Users can interact with the IVMS system using interface panels, PC based touchscreens, and remote VPN connectivity to access information such as historical logging, trending and reporting to allow owners and service technicians to view detailed information about the operations of the vessel. The system can generate SMS texts and or emails based on event triggers or alarms.



For more information on the KEP IVMS Intelligent Vessel Management Systems, KEP Marine, or its entire marine product line contact 800-631-2165 ext 353 (toll-free) in the USA or visit www.kepmarine.com.



About KEP:

Kessler Ellis Products (KEP) designs, manufactures and services electronic flow instrumentation, marine-grade sunlight readable displays, industrial displays, PLC peripherals, industrial computers, counters/timers, rate meters and HMI software.

Kessler-Ellis Products has been supplying products to our industrial customers for over 50 years. As an ISO 9001:2008 certified company, KEP continues to focus on designing and manufacturing reliable quality products suitable for all industries. Give us a chance to serve you. We will do all we can to make your choice of us a good one. www.kep.com

More from Computer Hardware & Peripherals