Marine-Grade Flooring Pads protect vessel and crew.
Press Release Summary: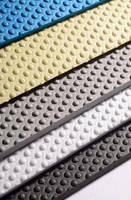 Available in various sizes, thicknesses, and colors, OceanGrip flooring pads are manufactured from UV-protected, non-absorbent, EVA marine-grade foam. Shock absorbent products provide traction and protection for surface of any vessel while helping to reduce fatigue, dampen noise and vibration, and safeguard decks from scuffs, chips, and dents. Textured surface promotes traction, even when wet, while peel and stick installation is made possible via pressure sensitive adhesive.
---
Original Press Release:

Oceangrip Launches Full Line of High Quality Marine-Grade Flooring Pads



Durable and Shock Absorbent, New Customizable Foam Pads Protect Watercraft and Ensure the Ultimate Comfort and Safety



Sarasota, FL. – OceanGrip, a premier manufacturer of high quality marine-grade flooring protection solutions, announced today the availability of its new line of easy-to-install, fully customizable OceanGrip flooring pads. Durable and shock absorbent, the versatile OceanGrip pads provide traction and protection for any vessel surface from luxury yachts to personal watercraft and surfboards. The new marine flooring line adds both style and functionality to improve comfort, reduce fatigue, dampen noise and vibration, and safeguard decks from scuffs, chips and dents. For any type of boating or on the water activity, OceanGrip provides a soft, cushioned feel for the ultimate in enhanced safety and comfort on the water.



OceanGrip marine pads feature an innovative, textured surface for exceptional traction even when wet. A perfect addition to high traffic areas on a vessel, the pads are easily installed with a simple peel and stick application, and reduce the potential for slipping and falling on wet slippery boat decks, swim platforms or steps. Whether at anchor or running in rough seas, hard vessel surfaces can create feet, ankle, knee and back discomfort; OceanGrip pads provide an unparalleled cushioning system that maximizes comfort while reducing fatigue — helping boaters focus and improve stamina for prolonged fishing, working or simply standing on a vessel. The pads also aid anglers by dampening sound and vibration that can spook fish. In addition, for discerning vessel owners, OceanGrip flooring pads are a stylish accessory that give any vessel a fresh new look. Pads can be personalized to include logos, designs or vessel name.



"We are thrilled to introduce a new line of durable marine flooring accessory pads that help preserve a boat while greatly enhancing safety and comfort on the water," said Mark Maus, president, OceanGrip. "What sets OceanGrip apart are our high-quality pad material, personal customer service, timely customization and simple application. OceanGrip is an easy DIY project but, if owners prefer, we will come to them to perform the install. We are confident that once boaters experience the look and feel of OceanGrip pads they will quickly recognize the benefits and want it on their vessel."



OceanGrip flooring pads are manufactured in the US from UV protected non-absorbent EVA marine-grade foam. Available in a variety of sizes, thicknesses and colors, the mats can be applied to commercial fishing boats, airboats, sailboats, ski boats, houseboats, personal watercraft, surfboards, platforms and steps. Designed in a partnership with 3M, the flooring mats are equipped with a pressure sensitive adhesive. Pads can be ordered and easily installed using an OceanGrip template kit; cutting the pad to the desired size; peeling away the adhesive liner; and placing the mat in the desired position for a super secure hold. OceanGrip will also provide customized pads that are pre-cut to specifications from user-provided templates or CAD drawings.



"Our flooring pads are an ideal upgrade option for boat builders and dealers," continued Maus. "The ability to customize the fit and color, as well as add logos and other design elements, allows builders to make a statement with our product or customize decking for discerning customers."



To enhance the style of a vessel and add personalized design elements, the pads can also be ordered with customized bevels, contours, engraved logos, text or graphics. OceanGrip guarantees satisfaction and provides a three-year material and workmanship warranty.



For more information on OceanGrip or its new line of high quality marine flooring pads, please contact at 941-379-4455 or info@oceangrip.com, or visit www.oceangrip.com.



About OceanGrip:

Based in Sarasota, Florida, OceanGrip offers boating enthusiasts improved on the water safety and security solutions. The company is committed to providing the highest quality customer service and products to both end-users and OEMs. Made in the USA, OceanGrip's in-house manufacturing capabilities allow for flexible and timely custom fits and installations of its durable and shock absorbent UV protected flooring pads. www.oceangrip.com

More from Electronic Components & Devices