Marantz Business Electronics Previews New AOI Platform at Productronica 2007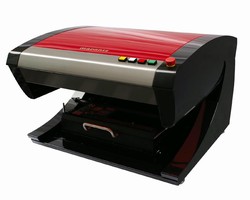 Marantz Business Electronics previewed its iSpector 350 model at last week's Productronica in Munich. iSpector is part of the company's brand new AOI platform supporting comprehensive inspection of PCBs, including SMT and THT components, reflow and wave solder joints, and solder paste.

Featuring proven Marantz Synthetic Imaging, this new platform delivers the industry's best defect balance ratio and fast programming times in a uniquely upgradeable package ranging from entry level desk-top to fully in-line. The Marantz iSpector 350 is suitable for PCBs up to 350x250 mm.

Traditional AOI machines are plagued with the problem that truly useful new product inspection programs require too much programming time for today's high mix, quick turn manufacturing environments. Useful inspection programs must optimise the balance between preventing 'escapes 'while maintaining a low 'false defects' rate. Always a focus of Marantz machine designs, iSpector now brings this essential AOI capability to the entry level price segment as well. It is programmable either through its extensive component library or with a Golden Board, and includes a Prototype mode for 1st off inspection. And, current Marantz users can immediately utilise all of their exiting programs as Model 22X software is fully iSpector compatible.

The new Marantz platform is designed to grow with its users, including upgradeable lighting. The desk-top configuration will be upgradeable to fully in-line operation, made especially convenient by its overhead gantry design that carries a high resolution, high speed video camera and provides easy access to PCBs.

About Marantz Business Electronics

Well known for high quality Audio/Video products, Marantz developed its first AOI system in 1994. Developed to inspect PCB assemblies for correct component placement and soldering, the AOI system was designed for use in Marantz's own factories. Proving to be a highly successful, cost-effective alternative to traditional human inspection, Marantz developed its first generation commercial system in 1996. With a steadily growing installed base, Marantz Business Electronics has now sold over 3,500 units worldwide.


More from Thermal & Heating Equipment