MAPS™ ED-137 Radio Emulator features multicast mode operation.
Press Release Summary: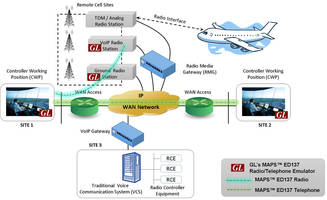 MAPS™ ED-137 Radio Emulator is used for simulating VoIP air-ground calls. Unit's software is capable of generating more than 500 simultaneous air-ground calls. Product comes with SELCAL feature, which is used to alert the aircraft crew members by incoming message from ground station. MAPS™ ED-137 performs automated periodic SQUELCH and PTT actions and for simulation of dynamic delay compensation messages. Radio emulator supports simulation of non-VoIP source PTT keying.
---
Original Press Release:
GL Enhances VoIP Radio Emulation & Analysis with Support for ED-137C
GL Communications Inc., announced today its enhanced ED-137 Radio Emulator referred to as MAPS™ ED-137 Radio Emulator.
Speaking to the press, Mr. Jagdish Vadalia, a Senior Manager for product development of the company said, "Continuing with efforts to improvise test tools for Air Traffic Control and Management industry, GL has enhanced MAPS™ ED-137 Radio to simulate VoIP Air-Ground calls as per EUROCAE ED-137C Volume 1 Radio version along with the existing ED137B Volume 1 Radio version."
He added, "The MAPS™ ED-137 Radio simulator software provides complete control over call scenarios testing, and the ability to customize the network parameters for signalling and VoIP traffic. It has the capability of generating more than 500 simultaneous Air-Ground calls."
Mr.Vadalia, emphasizing on the new features introduced, explained, "In Multicast mode operation, multiple CWPs can send request to have multicast session with GRS to receive multicast RTP packets from GRS. The router or switch with multicast feature will manage the subscription to multicast group and forwards the RTP packets received from GRS to all members of the group.
The new SELCAL feature is a signalling method used to alert the aircraft crew members selectively to an incoming message from a ground station. The CWP endpoints simulated by MAPS™ ED137 Radio supports sending SELCAL tones to GRS using the SIP INFO method.
GRS endpoints simulated by MAPS™ ED137 Radio will now support simulation of non-VoIP source PTT Keying. User can simply apply "Key non-VoIP PTT" event on the selected Radio call at GRS. This will trigger GRS to send Normal PTT_ON confirmation with configured PTT-Id (60, 61 or 62) in RTP downstream header to all CWPs indicating that PTT from a non-VoIP source is being transmitted at GRS. PTT-Ids 60, 61 and 62 are reserved for non-VoIP sources.
WG67 Key-In Package is updated to reflect the current frequency-id (fid) of the GRS. Whenever there is a change in the frequency-id, GRS sends NOTIFY message with new frequency-id to all the active CWPs. The NOTIFY message body will contain frequency-id and all active sessions information like PTT-id, SIP From URI and Call Type.
CWP end points can now include the disconnection mode SDP attribute ('NoFreqDisconn') in the SIP INVITE message to inform GRS not to terminate the session when GRS changes its frequency id. The GRS supporting this feature will retain the sessions received with this SDP attribute and terminates other sessions when frequency id changes.
CWP end points support sending Test PTT signal to GRS. Test PTT has the lowest precedence among all the PTT types and GRS handles its precedence as per ED137C."
Other Enhancements Include:
Simulation of Dynamic Delay Compensation Messages
Simultaneous Squelch on Multiple Selected Radios
Perform Automated Periodic SQUELCH and PTT Actions
About GL Communications Inc.,
GL Communications Inc, is a global provider of test and measurement solutions and has over the years worked with major telecom equipment vendors, service providers, and system integrators to meet the testing requirements arising at various stages of telecom products development life cycle.
GL offers a broad set of test solutions that help perform all types of testing on networks, from initial system design, to fine-tuning, troubleshooting, live deployment, and monitoring. The products are widely used to verify and ensure 'quality and reliability' of Wireless (4G LTE, 3G, 2G), SONET/SDH, IP, TDM, and PSTN networks.
GL core product development is backed by a strong team of R&D experts to match evolving market and technical challenges in a most cost-effective and innovative way.
Contact:
Shelley Sharma
Phone: 301-670-4784
E-mail: info@gl.com
More from Fasteners & Hardware