Manure Injection Equipment Incorporates Overhung Load Adaptors for Enhanced Distribution Manifold Performance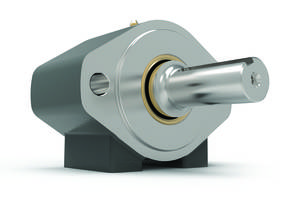 Plymouth, Minnesota: Providing contamination protection for the hydraulic motor shaft seal and bearing support in manure injection equipment is easily handled using Zero-Max Overhung Load Adaptors.
Operating over plowed fields, manure injection equipment require consistent performance for accurate injection. Providing many benefits over dry fertilizer application systems, manure injection systems have grown in their use. The key reason is they inject nutrients directly into the soil directly at the depth and time of root formation. Manure injection enhances crop growth while reducing fertilizer run-off.
Consistent manure injection system operation is ensured by using specially designed Overhung Load Adaptors (OHLA) from Zero-Max. They provide a stable mounting platform and bearing support between the hydraulic motor and the impeller / blender used on the Distribution Manifold.
OHLA's cover and protect the hydraulic motor's shaft seal from outside grit and contamination. The short cultivating season doesn't allow for equipment breakdown and servicing. Now, these conditions often can be prevented using Overhung Load Adaptors for shaft seal protection.
OHLA's for manure injection equipment are one of over 1300 designs offered by Zero-Max to meet new and unusual overhung load system requirements. These designs include custom inverted bearings and multiple lubrication ports that increase the Overhung Load Adaptor's load capacity, bearing life and smooth system performance.
Designed for either face or foot mounting, standard Overhung Load Adaptors are available in over 50 standard models. SAE mounts available include A, B, C, D, E, and F mounts with 2 or 4 bolt mounting flanges. Overhung Load Adaptors are available with many shaft variations including splined, threaded, tapered and extended output shafts. Special input bores and housing modifications are also available.
Manufactured to ISO 9001:2008 quality standards, Zero-Max Overhung Load Adaptors are ruggedly built with shafts precision machined from high quality 130,000 PSI Stress-proof steel. All custom Overhung Load Adaptor designs include a detailed CAD approval drawing submitted prior to manufacture.
Overhung Load Adaptors are used in underwater and high heat applications plus many other types of difficult and hostile environmental conditions. They are widely used in applications such as workboats, recycling systems, forestry shredders, road paving, industrial conveyor drives, and many others where hydraulic systems require stability and shaft seal protection.
Call 1-800-533-1731 for more information. Outside US and Canada, call 763-546-4300. Email: [email protected] See more at www.zero-max.com Zero-Max, 13200 Sixth Avenue North, Plymouth, Minnesota 55441-5509. Fax: 763-546-8260.