Manufacturing Systems feature PC-based machine control.
Press Release Summary: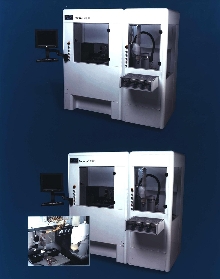 Flexsys(TM) automated manufacturing systems accommodate multiple process and assembly operations on one automated platform, and can be scaled up or reconfigured. Available models include Flexsys(TM) 1000 for semi-automated production and Flexsys(TM) 2000 for fully automated assembly and processing. Flexsys(TM) 3000 high-speed die bonder provides epoxy stamping to 50 microns, and Flexsys(TM) 4000 performs submicron precision automated manufacturing.
---
Original Press Release:

ATS Introduces Flexsys(TM) - A New Generation Of Flexible Standardized Automated Workcell Solutions For Optoelectronics & Microelectronics Manufacturing


CAMBRIDGE, ONT. - ATS Automation Tooling Systems Inc. (TSE symbol: ATA) announces the introduction of the ATS Flexsys(TM) family of standardized, high-precision automated manufacturing systems for advanced packaging and assembly in optoelectronics and microelectronics. Each Flexsys workcell accommodates multiple process and assembly operations on a single automated platform, enabling higher production volumes and dramatically improving yields. Equally important, each Flexsys workcell can be scaled up or reconfigured as manufacturing requirements change and grow.

"These industries need more standardized automated production solutions to support their current plans, but they also must consider their future outlook because technology and product life cycles are very short," said Klaus Woerner, ATS President and CEO. "Flexibility and scalability of manufacturing processes are very important for these rapidly changing markets and with ATS Flexsys, manufacturers start with the solution they require today and still have the ability to scale up, upgrade or reconfigure their Flexsys workcells to meet their production needs in the future. The result is state-of-the-art automation that serves industry needs today and continues to produce benefits and high returns over future programs."

The ATS Flexsys(TM) family of automated workcell solutions includes the Flexsys(TM) 1000 for semi-automated production; the Flexsys(TM) 2000 for fully automated assembly and processing; the Flexsys(TM) 3000 high-speed die bonder, and the Flexsys(TM) 4000 for ultra high-precision automated manufacturing. All Flexsys workcells are configurable for fiber optics, wireless, micro-medical device, semiconductor, computer peripheral, automotive electronics and other specialty high-precision applications through the use of standardized application specific toolkits.

Through standardization of design, Flexsys systems provide customers with robust, cost effective, proven automation technology with greatly reduced implementation lead times over custom automation. Toolkits and motion control platforms have also been standardized allowing for ease of spare parts management and common documentation between Flexsys workcells. Flexsys systems feature PC based machine control with a user-friendly Windows graphical user interface to facilitate rapid integration and increased productivity.

ATS invites perspective customers to visit the ATS booth at the OFC (booth #1521) where Flexsys systems will be on display and operating.

ABOUT ATS
ATS Automation Tooling Systems (www.atsautomation.com) is the industry's leading designer and producer of turn-key automated manufacturing and test systems, which are used primarily by multinational corporations operating in a variety of industries including: computer, microelectronics, optoelectronics, automotive, healthcare, and consumer products. The Company also makes precision components and sub-assemblies using its own custom-built manufacturing systems, process knowledge and automation technology. ATS employs approximately 3,200 people at 26 facilities in Canada, the United States, Europe and Asia-Pacific. The Company's shares are traded on The Toronto Stock Exchange under the symbol ATA.

Key Features of ATS Flexsys(TM) Process and Assembly Systems
Flexsys(TM) System:

Features:
Flexsys(TM) 1000 Semi-Automated Workcell
- Adaptable to a wide range of processes
- Maximum flexibility for prototyping, low volume production, testing
- Entry level automation which can be upgraded to a fully automated solution
- Typical applications include in-package or chip-on-carrier assembly, process development, active or passive alignment, planar waveguide align/attach/test, die bonding, epoxy dispense and cure, fiber pigtailing, inspection, test and measurement
- Sub-micron accuracy (application dependant)

Flexsys(TM) 2000 Fully Automated Workcell
- Fully Automated Flexsys assembly and process system for high volume production
- Designed to work with a wide range of standard tooling
- Standard conveyor and process tooling modules, quick change-out toolkits
- Industry-standard replacement parts for easier maintenance

Flexsys(TM) 3000 High Speed Fully Automated Die Bonder
- Designed for maximum throughput and flexibility
- Vision-guided placement and handling
- Epoxy stamping to 50 microns
- Typical applications include in-package or chip-on-carrier assembly, epoxy die attach, thermal compression bonding and flip chip bonding

Flexsys(TM) 4000 Ultra High-Precision System
- Ultra high accuracy (submicron) performance and capability on a standard machine platform
- Vision-guided placement and alignment to submicron accuracy's
- Data-driven software design for maximum flexibility
- Typical applications include in-package or chip-on-carrier assembly, die bonding, epoxy dispense


More from Laboratory and Research Supplies and Equipment