Manufacturing Service provides custom preforms.
Press Release Summary: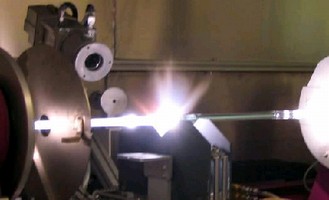 Utilizing Direct Nanoparticle Deposition process, custom manufacturing service provides single-step deposition of highly doped core preforms. DND's nanoparticles mitigate onset of clustering and related effects such as photodarkening in ytterbium fibers. Process is suitable for large mode area fibers requiring flat refractive index profiles and/or radially doped profiles. Each preform is delivered fully characterized with refractive index profile and absorption data.
---
Original Press Release:

Liekki offers custom, cost effective preform manufacturing services



LOHJA, August 25, 2006 - Liekki, the leading supplier of highly doped optical fibers,
is now offering the supply of custom preforms.

Liekki expands its broad product line of highly doped fibers, optical engines (OEs) and simulation software with the offering of custom preform manufacturing services. Liekki's Direct Nanoparticle Deposition (DND) process provides single step deposition of extremely highly doped core preforms. DND's nanoparticles also mitigate the onset of clustering and related effects such as photodarkening in ytterbium fibers. Unlike conventional solution doping techniques, DND rapidly directly deposits waveguiding and doping materials simultaneously in a single step. It is particularly effective for large mode area (large core) fibers requiring flat refractive index profiles and/or radially doped profiles. Also, large core/clad ratio preforms can be realized cost effectively. Conventional processes require many complicated, time consuming steps in particular for large mode area and large core/clad ratio preforms.

In addition to conventional round preforms, Liekki's flexible glassworks technology allows for manufacturing of other non-circular shapes, such as rectangular preforms. "We have recently upgraded our manufacturing facility which has resulted in our preform manufacturing process offering significant performance advantages and lower costs when comparing to conventional processes. We offered our services on a limited basis and had great success. We felt that it was time to offer our preform services more broadly. We continue to offer the highest performance fibers in the industry.

Preform supply allows us to leverage additional volume in our facility", says Mr. William Willson, Liekki's Vice President Marketing and Sales. "We are currently producing erbium and ytterbium doped preforms with aluminosilicate glass host that
show the industry's highest concentrations of RE-ion (e.g. 15 000ppm wt Yb2O3) while maintaining excellent optical properties. These core rods are now available to customers with core-to-cladding dimensions in range 1:5 - 1:20", says Mikko Söderlund, Product Manager for Fibers. "We are open to custom designs like extreme core-to-clad ratios, other dopants or combinations like Nd or Er:Yb codoping as well as other glass hosts such as phosphosilicate", Mr. Söderlund continues.

Each preform is delivered fully characterized with refractive index profile and absorption data.

About Liekki Corporation
Liekki designs, manufactures and markets specialty optical fibers and fiber subassemblies (optical engines) for fiber amplifiers and lasers using its unique and proprietary Direct Nanoparticle Deposition (DND) technology. DND makes it possible to produce state-of-the-art highly doped fibers that minimize required fiber length, have large core-to-clad ratios, and exhibit low photodarkening, flat refractive index profile, high efficiency and reduced nonlinear effects. Liekki fibers also have very
good usability in terms of splicing properties, temperature and bending characteristics. Liekki products are used in applications such as high power fiber lasers for industrial manufacturing and processing, military and aerospace, medical and scientific, and telecom sectors.

Direct Nanoparticle Deposition (DND) is a new, innovative nanoparticle process invented, developed and commercialized by Liekki, for a wide range of industrial applications. Liekki has licensed DND to industrial customers for non-optical applications and will continue to do so.

Liekki is headquartered in Lohja, Finland. Liekki products are available globally through Thorlabs (www.thorlabs.com). Liekki direct sales serves North America, Europe and Asia, supported by our representatives FT Okura (Japan), IKG Corporation (Japan), Apollo Electronics Co. Ltd. (China), and Connet Fiber Optics Co., Ltd. (China). For further information, please visit our website at www.liekki.com.

For more information, please contact:
Liekki
o Mr. William Willson, Vice President Marketing and Sales, tel. +1 301 706 0315,
email william.willson@liekki.com, or
o Ms. Sabine Doms, Marketing and PR, tel. +358 50 912 6955, email sabine.doms@liekki.com

More from Optics & Photonics