Manufacturing Automation Software includes data management.
Press Release Summary: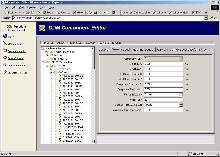 Dimensions(TM) Software Suite, with Dimensions Database Management (DDM) module, allows manufacturers to control component definitions available at each Universal GSM platform and HSP surface-mount placement machine. It detects modifications to machine-component database and stores exceptions for review by designated user. DDM includes definitions for over 1,000 industry components. Manufacturers can highlight production bottlenecks, optimize throughput, and capture histories and performance data.
---
Original Press Release:

Data Management adds New Dimension to Manufacturing Optimisation, Monitoring, and Control Software


Universal Instruments (NYSE: UNV) has enhanced its Dimensions(TM) manufacturing automation software suite, by adding data management features that allow electronic manufacturers to maintain a common component database for their Universal GSM platform and HSP surface mount placement machines.

The new Dimensions Database Management (DDM) module joins Universal Instruments' Dimensions line level manufacturing automation software suite, designed to improve the day to day work flow in the factory environment by increasing line productivity and managing production performance.

By providing a centralised component database, DDM allows manufacturers to control the component definitions available at each of the machines. DDM makes it easier to use and maintain the large quantities of data required for manufacturing modern electronic products at high throughput and efficiency. All component information for Universal GSM platform and HSP machine types can be modified through the same data-editing tool. DDM also manages component changes by detecting modifications to the machine component database and storing exceptions for review by the designated user. The changes may then be incorporated in the master database, or discarded. DDM also supports automatic replication of the machine component database, allowing manufacturers to ensure that the latest approved component definitions are in use at every machine database location.

To simplify pattern program creation, DDM includes definitions for more than 1,000 common industry components. In addition, component information within DDM could be exported to Dimensions Programming and Optimisation software (DPO) or a third party programming tool such as Unicam, Valor, Circuitcam, Genrad, etc.

The Dimensions Programming and Optimisation (DPO) module provides a single programming and line optimisation tool for configuring a Universal line. By providing one point of data entry, a common interface across machine types, and a consistent process to generate production and setup data for one or more assembly lines, DPO makes line balancing, optimisation, and product generation easier and faster. DPO also interfaces with the Dimensions Database Management (DDM) module to extract component data thereby reducing redundant data entry.

Universal Instruments' Dimensions(TM) manufacturing automation software allows manufacturers to instantly highlight production bottlenecks, optimise throughput, capture histories and performance data, and streamline New Product Introduction(NPI).
The suite includes the Dimensions Manufacturing Monitoring (DMM) module, which acts as a single point of storage, retrieval, and analysis of machine management data. It offers web-based browsing, component traceability, remote notification, and performance monitoring, and serves as an Internet window to the manufacturing environment. It also allows component consumption data, PCB and machine status, and feeder information to be easily up-linked and integrated into an ERP system.

Universal contact
Karen Moore Watts
UIC
PO Box 825
Binghamton
NY 13902-0825
USA
Email:moore@uic.com
www.uic.com

Protean contact
Helena Osborn
Protean Marketing Communications Ltd
Communications House, Station Road
Cookham Rise
Maidenhead,
Berks
SL6 9BU, UK
Email: moore@uic.com
Tel: +44 (0)1628 648530
Fax: +44 (0)1628 529087
Email: helena.osborn@protean.co.uk

Related