Manufacturers of Solar Panels Get Outstanding Results by Using the Sonobond Ultrasonic Photovoltaic Modular System in the Production of Solar Cells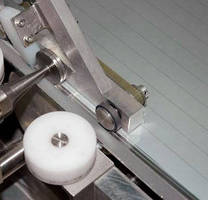 This ultrasonic metal welding equipment from Sonobond Ultrasonics creates an ultra-reliable, solid-state metallurgical bond without distorting materials or cracking the glass panels in the photovoltaic cells. It is also faster than other assembly methods.

WEST CHESTER, Pennsylvania, May 20, 2009-Melissa Alleman, Vice President of Sonobond Ultrasonics, announced today that the MS-5010PV Ultrasonic Photovoltaic (PV) Modular System continues to play a key role in the manufacture of the solar cells that constitute solar panels. This Sonobond ultrasonic technology is used to weld aluminum strips to the metallized glass on the photovoltaic cells. The resulting interconnects between the PV cells produce an array with sufficient voltage and current to provide a
practical source of electrical power.

Sonobond's Ultrasonic PV Modular System for Solar Cell Production
According to Ms. Alleman, "In this period when there is so much discussion about global warming and a desire to find alternative energy sources, our Ultrasonic PV Modular System is becoming increasingly popular with solar cell manufacturers. They appreciate the fact that our technology is fast, efficient, and cost-effective. Most importantly, they have seen that using Sonobond's Ultrasonic Photovoltaic Modular System does not distort materials or crack the glass panels in the PV cells. In addition, it requires only minimal training and is easy to operate. This can mean important savings for them in time, resources, and production costs."

Faster Than Other Assembly Methods
The MS-5010 PV is intended for integration into an automated assembly system. It consists of an ultrasonic head with a rotatable welding disk and a power supply. The head has a keyed shaft which can be used to rotate the welding disk at the same speed as the advancing photovoltaic panel. The power supply includes a solid-state frequency converter, as well as automatic tuning control. This eliminates the need to manually adjust the frequency.

In further describing the unit's capabilities, Vice President Alleman says, "Our Ultrasonic PV Modular System successfully welds at speeds of up to five meters per minute. In addition, the system accommodates foils up to 0.08 mm (0.003 inch) thick and is capable of splicing foil as thin as 0.004 mm (0.00017 inch) thick. Manufacturers can also specify either our standard 110-volt system or a 220-volt system."

Sonobond personnel work closely with solar panel manufacturers to provide in-depth technical support before, during, and after installation. According to Vice President Alleman, "We place a high priority on customer service at Sonobond. Working with those who currently use our products-or who may do so in the future-is important to us. We are proud of our technology and want customers to have a positive experience in every respect."

The Advantages of Ultrasonic Welding
Sonobond's Ultrasonic PV Modular System produces seam welds through the momentary application of mechanical vibratory energy under pressure. There is no melting of the materials and nothing results that resembles the cast structure created by a fusion weld.

Ultrasonic bonding offers numerous advantages in producing the photovoltaic solar cells used to make up solar panels. For example, the bonds have essentially the same strength and structure as the base metals. In addition, ultrasonic bonding does not produce excessive heat and uses no fluxes, tapes, solder, or other consumables. The process is neat, environmentally friendly, and economical. There is no need for cleaning before or after the weld is made.

A Leader in Ultrasonic Welding Technology
Sonobond is a worldwide leader in the application of ultrasonic welding and bonding technology. The company-then known as Aeroprojects-received the first patent ever awarded for ultrasonic metal welding. This was in 1960. During the intervening 49 years, Sonobond has earned an outstanding reputation for its pioneering work and quality-engineered products. Sonobond now manufactures a complete line of ultrasonic bonding and welding equipment for a wide variety of customers. These include companies in the environmental, automotive, appliance, electrical, HVAC, aerospace, filtration, medical, and apparel industries.

Additional Information
Sonobond offers a free Ultrasonic Welding Viability Test to manufacturers. This provides a practical, no-obligation way for companies to determine the suitability of Sonobond technology for their specific application.

Anyone looking for additional information about the complimentary Ultrasonic Welding Viability Test...the MS-5010PV Ultrasonic Photovoltaic Modular System...or other Sonobond products is urged to visit the company's website at SonobondUltrasonic.com. They can also email Sonobond's vice president, Melissa Alleman, at MAlleman@SonobondUltrasonic.com or call 800-323-1269.

Related