Manual Batching Systems offer design flexibility.
Press Release Summary: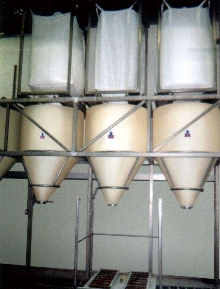 Tailored to production requirements, customizable batching and weighing systems are engineered to adapt to future expansions and automation. System components include material silos, unloaders, and integrated dust collection. Design of USDA-approved, polyethylene dispensers eliminates bridging. Used to process powders and dry bulk ingredients, modular systems can also include user interface, feeder conveyors, and metering and weighing devices.
---
Original Press Release:

Manual Batching Systems Offer Maximum Flexibility, Lowest Capital Cost


January 25, 2005 Cincinnati, OH Ingredient Masters, a manufacturer of equipment and systems for companies who use (or process) dry, flaked or powdered ingredients, has introduced customizable manual batching and weighing systems.

Ingredient Masters ("IM") batching systems are modular, and are tailored to the customer's production requirements. They are specifically engineered to adapt readily to future expansions and automation, when needed.

System components include material silos, high-efficiency unloaders, and integrated dust collection. Dispensers are USDA approved polyethylene for broadest application and best performance. Dispensers have a patented design feature which eliminates "bridging" - a phenomena which works against the efficient flow of powdered material.

Many IM systems also include user interface, feeder conveyors and precision metering and weighing devices. Ingredient Masters batching systems are engineered for compatibility with existing equipment and are compatible with FIFO (first-in, first-out) processing protocols.

Whether a facility uses bulk bags, totes or paper bags, "IM" manual batching systems provide an efficient, ergonomic, and consistent way to process powders and dry bulk ingredients, from food to pharma to ceramics. Systems are designed to meet a specific ROI objective -generally two years or less. They also produce substantial savings in reduced labor, simplified dunnage and landfilling, and improved confinement of fine powder material within the facility. Ingredient Masters, Cincinnati, OH (888) 345-4729 or(513) 231-7432 www.ingredientmasters.com

More from Electronic Components & Devices