Manipulator lifts and handles large suitcases and boxes.
Press Release Summary: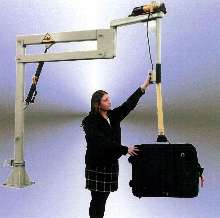 Mini-Articularm is mounted on 12 x 12 in. base plate. It swings in 12 ft diameter circle, and forearm can articulate in every part of circle to pick up or place items. Vertical mast rotates 360°. Forearm swings left or right 270° on thrust bearing for positioning of load up to 200 lbs. Height of lifting arm is hydraulically controlled and manually adjusted up to 96 in. Actual lifting is electrically powered by 110 Vac or 12 Vdc battery-operated winch.
---
Original Press Release:
New Luggage Handling Ergonomic Manipulator; Simple, Fast & Economical...Backsaver

This new easy to operate ergonomic Mini-Articularm was designed to help in lifting and handling large suitcases, boxes or other heavy items. The arm of the Mini-Articularm swings in a 12' diameter circle and the forearm can articulate in every part of that circle to pick up or place items effortlessly.

The vertical mast of the Mini-Articularm rotates 360-degrees. The rotation is on a roller bearing for smooth and easy operations and can be equipped with a manual rotation lock. The forearm swings left or right 270-degrees, on a thrust bearing for precise positioning of the load up to a 200 pound capacity. The Mini-Articularm is mounted on a 12" x 12" base plate.

The height of the lifting arm is hydraulically controlled and manually adjusted to the height required up to 96" high and left in this position. Then actual lifting is electrically powered by a special 110 volt AC or 12 volt DC battery operated winch.

The winch is equipped with a special flat belt used for the lifting. This belt is similar to that of a car safety belt with a low profile wide hock that grabs the suitcase handle. The belt can also be wrapped around a box without a handle for lifting.

The vertical lifting arm is equipped with a convenient control handle with a push button control for up and down operation of the belt winch.

The Mini-Articularm will increase productivity, save time, improve safety, and eliminate fatigue and injuries in any operation where loads of up to 200 pounds must be lifted, loaded, unloaded or stacked.

For more information:

Air Technical Industries

7501 Clover Avenue

Mentor, Ohio 44060

Phone: 440-951-5191

Fax: 440-953-9237

E-mail: ati@airtechnical.com

Http://www.airtechnical.com
More from Transportation Industry Products