Manifolds meet ISO 15848 standard for fugitive emissions.
Press Release Summary: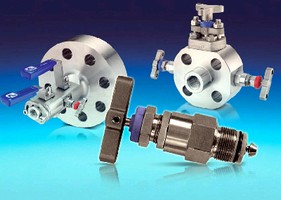 Available in double-block-and-bleed configurations, Instrumentation Manifolds come in either monoflange or low-profile flange-ended forms. Both feature integrated construction that minimizes potential number of leak paths. Ball and needle valve designs used in manifolds meet highest A classification level specified by ISO 15848 over temperature range of -29 to +180°C. With flange sizes from ½-3 in., manifolds are offered in numerous valve/flow path configurations.
---
Original Press Release:

New Manifold Range Meets The ISO 15848 'Gold Standard' for Fugitive Emissions



* takes 'zero emission' compliance possibilities into the instrumentation sector, with manifolds meeting the highest 'A' rating

Barnstaple, UK, May 30, 2007 --- Today, Parker Instrumentation launches a range of instrumentation manifolds meeting the stringent new ISO 15848 standard for fugitive emissions. Available in double-block-and-bleed configurations, in either monoflange or low-profile flange-ended forms, the new manifolds provide process instrument interfaces of outstanding integrity to help processing organizations dramatically enhance their LDAR (leak detection and repair) programs.

Published in 2006, ISO 15848 parts 1 and 2 (defining a classification system and qualification procedures, and production acceptance test of industrial valves, respectively) specify new ultra-low standards for emissions, which are attracting the attention of oil, gas and chemical/petrochemical organizations worldwide. The standard is mainly used for process valves, but is now starting to be widely considered for instrumentation-sized components as well, especially on environmentally sensitive projects.

"Interest in ISO 15848 is progressing from the process valve to the instrumentation arena, and we are delighted to enter the market early in the cycle", says Parker Instrumentation's Kevin Ballard. "With increasing environmental regulation, we expect the demand for ISO 15848 compliance, which effectively sets a 'zero emissions' standard, to soar in the coming decade."

There are three leakage classifications specified by ISO 15848: A, B and C (specifying maximum leakage rates from less than or equal to 1 x 10-2 mg/second/metre, to a figure four orders of magnitude less: 1 x 10-6 mg/second/metre. Meeting any of these low levels is a challenge, which Parker Instrumentation has solved with new ball and needle valve designs for use in double-block-and-bleed instrument manifolds. The valve designs meet the highest 'A ' classification level, over the temperature range -29 to +180 degrees Celsius, and the standard instrumentation manifold working pressures.

This compliance corresponds to a maximum annual leakage of less than the volume of a walnut for a typical three-valve instrument manifold.*

Parker Instrumentation is initially making the valves available on two types of integrated instrument manifold optimized for space- and weight-saving. These are ProBloc, a novel one-piece body design with a flange at one end, and a range of the popular monoflange products with double-block-and-bleed valves integrated into the flange shaped body. Both feature a highly integrated construction that reduces the potential number of leak paths substantially compared with assemblies fabricated from discrete valve and tubing components.

The vendor's ISO 15848-compliant range is available with flange sizes from 1/2 to 3 inches. Numerous valve/flow path configurations are available to suit the spectrum of common process instrument interfacing applications.

More information: www.parker.com

*Explanation: for a 10 mm bore ProBloc meeting ISO 15848, the maximum allowable leak rate per valve is 10E-6 mg/s/m (at ambient temperature and pressure). If the manifold's three valves (two ball and one needle) were to leak at their maxium permitted rates, total leakage would be 16.75 cm3 of helium in a year. A sphere of 32 mm diameter - the approximate size of a walnut - has a volume of 17.16 cm3.

Parker Instrumentation, Riverside Road, Barnstaple EX31 1NP, UK. t: +44 (0)1271 313131; ipd@parker.com

Parker Instrumentation Products Division, 1005 A Cleaner Way, Huntsville, Alabama 35805-6708, USA. Tel: 256 881-2040; ipdsales@parker.com

Parker Hannifin, Middle East, PO Box 46451 Abu Dhabi, United Arab Emirates. Tel: +971 2 6788587; mamin@emirates.net.ae

More from Fluid & Gas Flow Equipment