Manifold Valves connect system impulse line and transmitter.
Press Release Summary: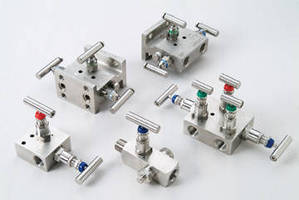 Featuring bonnet lock pins to prevent accidental loosening, 2-, 3-, and 5-way manifold valves have pressure rating up to 6,000 psi at 200°F. R-type manifolds provide differential pressure of flow recorder to impulse tubing, while D-, T-, and H-type manifolds bolt directly to differential pressure instruments to eliminate need for piping, valves, and fittings. Incorporating full back-sealed bonnets that prevent accidental stem removal and blowout, each valve has 4.0 mm orifice.
---
Original Press Release:

New Manifold Valves Offer Convenient Method of Blocking, Bleeding and Calibrating Pressure Instruments



ERIE, PA - Innovative Pressure Technologies (IPT) introduces 2-, 3- and 5-Way Manifold Valves. These valves combine the function of a tee, calibration valve, isolation valve and all tubings and fittings into a single valve configuration, and are designed to connect a system impulse line and transmitter. R-Type manifolds provide differential pressure of flow recorder to impulse tubing. D-Type, T-Type and H-Type manifolds bolt directly to differential pressure instruments to eliminate the need for piping, valves and fittings.

Metal seated units feature a maximum pressure rating up to 6,000 PSI at 200°F (414 bar at 93°C). The pressure rating at maximum temperature for PTFE units is 4,130 PSI at 450°F (284 bar at 232°C), and for Grafoil units is 1,500 PSI at 1000°F (103 bar at 538°C). Each has a 0.156 in. (4.0 mm) orifice.

Each manifold valve features bonnet lock pins to prevent accidental loosening, and adjustable packing reduces the possibility of bonnet/body leaks. All stem packing is located below the stem threads to prevent galling, corrosion and contamination. Full back-sealed bonnets prevent accidental stem removal and blowout. Metal seat units feature a free swiveling ball end stem as standard to ensure bubble-tight valve closure without seat galling.

The special hardened ball seat is ideal for both gas and liquid service. Typical applications include:

o General plant service

o Pressure instrumentation devices

o Pressure equalization

o Block and bleed

o Venting

About Innovative Pressure Technologies

Innovative Pressure Technologies specializes in the design and manufacture of precision machined valves, fittings and other fluid control devices, and related components and accessories, up to 60,000 psi. With over 30 years of manufacturing experience and millions of completed assemblies and individual components delivered, IPT is recognized as a leading provider of specialty valve and fitting technologies in applications requiring specialized machining and/or material requirements. Primary markets served include oil and gas, aerospace and defense, automotive, pharmaceutical, laboratory research, power generation, water and wastewater, and general industry, among others.

Innovative Pressure Technologies,

4922 Pittsburgh Avenue,

Erie, PA 16509-6207;

1-814-833-5200;

fax: 1-814-836-1824;

sales@inpressure.com;

www.inpressure.com.

Company Contact:

Wade Brandon, Vice President, Sales & Marketing

Innovative Pressure Technologies

814.833.5200

More from Electrical Equipment & Systems