Manifold Regulators feature space-saving design.
Press Release Summary: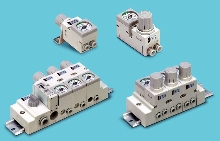 Compact Manifold Regulators Series ARM10/11 enables mounting of multiple units in control panel or on DIN rail. Units include built-in pressure gauge with 2 pressure ranges, straight and elbow type push-in fittings, integral isolation valve, and integral pressure switch to monitor inlet pressure to manifold. Available with top or front facing control knobs, ARM10 single unit regulator has same functions as ARM 11 manifold regulator, and is suited for panel mounting.
---
Original Press Release:

Compact Manifold Regulators


Indianapolis, IN - SMC Corporation of America, the world's largest manufacturer of pneumatic products and filtration equipment has announced the release of new Compact Manifold Regulators series ARM10/11. These regulators provide maximum space efficiency when multiple units are used.

Developed to combine regulators in to a compact manifold configuration, the regulators save space, piping connections and enables mounting of a number of units in a control panel or on a DIN rail for maximum space efficiency.

The space saving ARM10/11 regulator has a built in pressure gauge and the option of two pressure ranges. Available for ports of various sizes, it also enables ports to be run out of the top or bottom for versatility, in difficult or confined spaces. The regulator banks can be made to suit the requirements of the OEMs and end users, in any industry including food, pharmaceuticals, automotive and semiconductor.

Other features include push in fittings, both straight and elbow type, and an integral isolation valve for maintenance purposes without affecting other systems, and an integral pressure switch to monitor the inlet pressure to the regulator manifold

The regulator manifolds ARM11 can either have a common supply pressure for all regulators or individual supply for each regulator, and the control knobs of the regulators can be positioned to face Top, Front or Bottom of the regulator as required.

The compact arrangement enables all regulators to be viewed together and adjustments and maintenance to be carried out from one location, thus saving operator time

The ARM10 single unit type regulator has same basic functions as ARM 11 manifold type regulator, and is ideal for panel mounting, available with top or front facing control knobs.

Non-relieving and oil free versions of these regulators also available from SMC, upon request.

The ARM regulator manifolds are assembled at SMC's Indianapolis, Indiana factory.

For more details contact one of the SMC's 24 sales offices, near you.

SMC Corporation also manufactures actuators, airline and air preparation equipment, high-purity products, vacuum ejectors, instrumentation, and a host of fittings, tubing and accessories applicable to the machine tool, general machinery and automation industry. With their online product specification tool called E-Tech, customers can specify products, validate part numbers, use sizing calculators and download native CAD files to help select suitable products, and verify selection. Subsidiaries and joint ventures of SMC Corporation have been established in 38 countries, with sales having grown to a 20% share of the world market, earning it the acclaimed "Global 500" industry rating. SMC has a total of 14 production facilities, 3 of which are in North America -Indianapolis, IN, Los Angeles, CA. and Mississauga, Ontario. SMC's global presence enables to provide best customer service in any part of the world.

For more information on SMC's line of manifold regulators, request catalog CAT.ES40-43B. For complete information, visit our website at www.smcusa.com, or contact Product Manager Balaji Rao at extension 14848

More from Software