Maneuverable Stormwater Chamber has ultra-high capacity design.
Press Release Summary: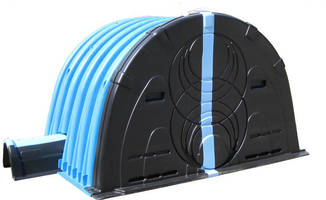 Open on both ends, 78 lb Recharger® 902HD addresses needs of high-volume stormwater management systems by offering bare chamber storage capacity of 17.66 ft³/ft within installed dimensions of 3.67 ft x 78 in. x 48 in. Chamber offers minimum installed storage of 27.27 ft³/ft when installed with stone. Joined using overlapping rib connection, each chamber includes side portal feature that allows connections to take place at any point within system.
---
Original Press Release:

Cultec Introduces New, Ultra-High Capacity Recharger 902 HD Stormwater Chamber



BROOKFIELD, CT — CULTEC, Inc. introduces its newest and largest chamber to the stormwater market – the Recharger® 902HD. This ultra-high capacity model offers the benefit of minimizing project costs by maximizing storage volume in a given footprint. The Recharger 902HD is an ideal solution for high-volume stormwater management systems due to its lightweight maneuverability, shipping and stockpiling benefits and design flexibility.



When compared to smaller, lower capacity chamber sizes or comparably sized large diameter pipe, clients achieve the required storage volume in a condensed footprint using the Recharger 902HD and require less labor and excavation, resulting in a lower cost per cubic foot. Additionally, the chamber's shorter length and light weight (78 lbs.) allow for easier handling and reduced heavy equipment time when judged against competitive models.



Units are shipped on pallets at 12 pieces-per-skid, 14 skids-per-truckload and stockpile neatly on site in a compact area. The installing contractor and heavy equipment operator experience less downtime when receiving CULTEC Recharger 902HD material shipments than when waiting for several truckloads of heavy concrete structures or loose pipe to arrive and to be unloaded.



The Recharger 902HD is open on both ends and requires a separate end cap to cap chamber rows. Chambers are joined using an overlapping rib connection. Each 902HD chamber includes CULTEC's unique side portal feature which allows connections to take place at any point within the system for maximum design flexibility. Smaller chamber-type cross feeds called HVLV FC-24 Feed Connectors are inserted into the side portal openings to create an internal manifold. Having the manifold incorporated within the system reduces the required bed area and related excavation costs. A custom-fabricated external pipe manifold is eliminated by using this internal manifold feature.



The model has an installed length of 3.67' long, 78" wide and 48" tall. The bare chamber storage capacity of the Recharger 902HD is 17.66 ft³/ft. – more than 20% greater storage per foot than the closest competitor chamber size. The chamber boasts a minimum installed storage of 27.27 ft3/ft. when installed with stone. The Recharger 902HD shall be designed to withstand AASHTO HS-25 defined loads when installed according to CULTEC's recommended installation instructions.



For more information about the Recharger 902HD or CULTEC's other chamber models, please call (203) 775-4416 or visit www.cultec.com.



About CULTEC

CULTEC, Inc., manufacturer of the Contactor® and Recharger® plastic HDPE septic and stormwater chambers, is a family-owned and operated company with experience in the drainage industry dating back to the 1950's. Introducing its Contactor and Recharger chambers to the industry in 1986, CULTEC helped begin a revolution toward using plastic construction products. Since then, several product developments and strategic alliances have made CULTEC a cutting-edge R&D-based manufacturer.



The company currently offers the largest variety of chamber sizes ranging from 8.5" – 48" high to fit almost any installation requirement. CULTEC's products meet traffic wheel load criteria and are manufactured at ISO 9001:2008 facilities for strict quality control. To support the engineering community, CULTEC is modeled in Bentley Systems' PondPack V8i, HydroCAD, Autodesk Storm and Sanitary Analysis and Streamline Technologies' ICPR and can assist with any design by performing preliminary calculations and supplying job-specific AutoCAD® layouts free of charge. A free Stormwater Management Design Guide is available upon request. For more information, visit www.cultec.com.

More from Computer Hardware & Peripherals