Managed Ethernet Switches offer redundancy, diagnostics.
Press Release Summary: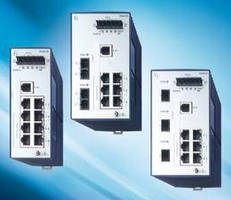 Hirschmann(TM) RSB20 series is comprised of 32 models distinguished by number of ports (8 or 9) and type as well as factory settings for EtherNet/IP and specific operating temperature ranges. Able to be mounted on standard top-hat rails, all support Fast Ethernet (10/100 BASE-TX, 100 BASE-FX) and offer management and redundancy modes as well as various functions for configuration and diagnostics. Passive cooling and redundant 12/24 Vdc power supply promote operational safety.
---
Original Press Release:

Belden Adds RSB20 Family of Versatile Managed Basic Switches to Its Portfolio of Hirschmann(TM) Products



Belden has launched a Hirschmann(TM) RSB20 family of managed basic switches to fit a wide range of applications. Contributing to overall cost efficiency, they offer high operational safety as well as high availability.

The new family of managed basic switches comprises 32 models distinguished by the number and type of ports offered as well as by their factory settings for EtherNet/IP and specific operating temperature ranges. All RSB20 switches support Fast Ethernet (10/100 BASE-TX, 100 BASE-FX) and offer both comprehensive management and redundancy modes as well as various different functions for convenient configuration and diagnostics. Furthermore, they meet all current industrial standards and have cUL508 and cUL1604 Class 1 Div2 approvals. Supplied in a rugged and compact housing, they can be mounted on standard top-hat rails.

Passive cooling (no fans) and a redundant 12/24VDC power supply add to ensure high operational safety. All configuration data can be saved and recalled, if required, though a serial interface connecting to the ACA 11 auto-configuration adapter. This gives the new Basic Switches a versatile and cost-efficient fit in a wide range of different applications, such as in mechanical engineering or the wind energy industry.

Depending on the version, the switches feature 8 or 9 ports. User can select between RJ45 connections, fiber uplinks for single or multi-mode, and ports for SFP fiber optical transceivers.

Operating temperature range is either 0°C to 60°C or -40°C to +70°C. Housing dimensions are 47 or 74 by 135 by 111 mm in width, height and depth.

Redundancy procedures, such as HIPER Ring, MRP (IEC ring function) and Rapid Spanning Tree, provide for high network availability. Access control is realized by means of SNMP V3. Command Line Interface (CLI), web browser and software tools, including HiVision or HiDiscovery, serve for comprehensive management, configuration and diagnostic functions.

With the new RSB20 family, Basic Switches are now available for customized communications solutions. "While these switches complement our portfolio at the lower end, they require no compromises in quality, as demonstrated for instance by an excellent MTBF (Mean Time Between Failures) value of more than 50 years." says Product Manager Jürgen Schmid. "This provides an entry into the segment of managed switches at an attractive cost level, since customers pay only for the range of features they really need."

About Belden
Belden designs, manufactures and markets signal transmission solutions, including cables, connectors and I/O modules as well as network devices and control, load sensing and load moment limitation systems designed for safety-critical applications ranging from industrial automation to data centers, broadcast studios and the aviation and aerospace industry. The company focuses on segments of the worldwide cable and automation markets that require both highly specialized and readily available products. With manufacturing facilities in North America, Europe and Asia, Belden has recorded a total revenue of USD 2 billion for the fiscal year 2008.

Together with its brands Hirschmann(TM) and Lumberg Automation(TM), Belden offers an extensive and highly specialized product portfolio covering the full range of data communications - from the information and control levels down to the field level. The company has more than 15 offices throughout Europe, the Middle East and Africa, with manufacturing facilities in Czech Republic, Germany, the Netherlands, UK, Denmark, Italy and Hungary.

For more information about Belden, please visit www.beldensolutions.com or email inet-sales@belden.com.

Related