Managed Ethernet Switch supports IPv6 protocol.
Press Release Summary: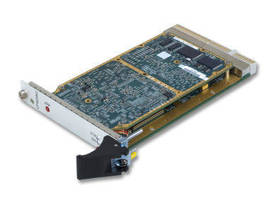 Designed for demanding applications in aerospace, defense, and commercial environments, NETernity(TM) CP923RC 3U CompactPCI Layer2/3+ Gigabit Ethernet Switch offers ten 10/100/1000BaseT ports routed to rear I/O. Unit supports OpenWare(TM) switch management firmware that provides integrated management services including configuration, monitoring, switching control, addressing, and routing. Air-cooled, rugged air-cooled, and conduction-cooled versions are available.
---
Original Press Release:

GE Fanuc Intelligent Platforms Announces High Performance Ethernet Switch For Demanding Applications in Aerospace, Defense and Commercial Environments



NETernity(TM) CP923RC 3U CompactPCI fully-managed gigabit switch is cost-effective, flexible, easy to deploy

o 10 ports to rear I/O delivers optimum density

o IPv6 support for greater security, reliability and flexibility

o Rugged versions for non-benign environments

o OpenWare(TM) switch management software for ease of use

CHARLOTTESVILLE, VA July 21, 2009 GE Fanuc Intelligent Platforms, a unit of GE Enterprise Solutions, today announced the NETernity(TM) CP923RC 3U CompactPCI fully managed Layer 2/3+ Gigabit Ethernet switch. Designed for demanding applications in aerospace, defense and commercial environments, the CP923RC responds to the growing demand for high performance switching solutions in Ethernet networks that are becoming increasingly pervasive across all industries. The CP923RC can switch network traffic both externally to, and within, a chassis.

Characterized by the high port density it offers, with ten 10/100/1000BaseT ports routed to rear I/O, the CP923RC supports IPv6, the protocol that is allowing improved security, reliability and flexibility. It also provides enhanced support for mobile devices and a significantly larger number of Internet addresses. The CP923RC is available as standard in air-cooled, rugged air-cooled, and conduction-cooled versions. The air-cooled versions are hot swappable for maximum availability.

"The CP923RC extends our strategy of providing a broad range of highly flexible Ethernet network management products, allowing us to offer customers precisely the right solution in terms of form factor, capability and price/performance," said Rubin Dhillon, Communications Product Manager at GE Fanuc Intelligent Platforms. "The CP923RC delivers improved performance and ease of use while ensuring easy migration through its pin-compatibility with preceding products."

In common with other members of the extensive NETernity family of managed switches, the CP923RC supports GE Fanuc's OpenWare(TM) switch management firmware that provides integrated management services including configuration, monitoring, switching control, addressing, routing and an extensive number of supported protocols. OpenWare can be customized to meet particular customer requirements.

In line with GE Fanuc Intelligent Platforms' strategy of ensuring that the value of existing customers' investment is maximized, the CP923RC also supports IPv4 in order to protect customer investment while providing a straightforward upgrade path.
For more information: www.gefanuc.com/products/family/io-and-communications.

About GE Fanuc Intelligent Platforms

GE Fanuc Intelligent Platforms, a joint venture between general Electric Company (NYSE: GE) and FANUC LTD of Japan, is an experienced high-performance technology company and a global provider of hardware, software, services, and expertise in automation and embedded computing. We offer a unique foundation of agile, advanced and ultra-reliable technology that provides customers a sustainable advantage in the industries they serve, including energy, water, consumer packaged goods, government & defense, and telecommunications. GE Fanuc Intelligent Platforms is a worldwide company headquartered in Charlottesville, VA and is part of GE Enterprise Solutions. For more information, visit www.gefanuc.com.

About GE Enterprise Solutions

GE Enterprise Solutions elevates customers' productivity and profitability with integrated solutions using sensors and non-destructive testing; security and life safety technologies; power system protection and control; and plant automation and embedded computing systems. Enterprise Solutions' high-tech, high-growth businesses include Sensing & Inspection Technologies, Security, Digital Energy, and GE Fanuc Intelligent Platforms. The business has 17,000 problem-solving employees in more than 60 countries around the world.

NETernity and OpenWare are trademarks of GE Fanuc. All other trademarks are the property of their respective owners.

For more information contact:

Ian McMurray

GE Fanuc Intelligent Platforms

t: +44 (0) 1327 322821

e: ian.mcmurray@gefanuc.com