Managed Ethernet Switch is fully PICMG 2.16-compliant.
Press Release Summary: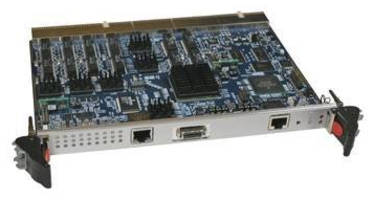 Offered as 6U blade, CSB4624 provides fully managed L2/L3 switching and routing capabilities to high-bandwidth cPCI applications. It features full IPv4/6 support in addition to 24 auto-negotiating 1 GbE link ports and three 10 GbE connections. Fully accessible via SNMP, web interface, serial, telnet, and SSH, Ethernet management stack, switch provides backbone to any cPCI implementation. Combination of MSTP and LAG allows for N-way active redundancy, promoting throughput and availability.
---
Original Press Release:

DTI Introduces PICMG 2.16 Compliant Ethernet Switch for CompactPCI



CSB4624 - Full IPv6 support, (24) 1GbE Link Ports and (3) 10GbE Connections

August 19, 2009 - Diversified Technology, Inc. (DTI) introduces a new member of its CompactPCI line, the CSB4624 switch. This 6U blade is a PICMG 2.16 compliant CompactPCI managed Ethernet switch with full IPv6 support, twenty-four 1GbE link ports and three 10GbE connections. Designed for reliable and robust operation under the broadest range of conditions, the CSB4624 switch is an ideal partner for DTI's line of CompactPCI CPU boards, which are based on the latest Intel processing technologies. When fully integrated in to one of DTI's CompactPCI chassis, the CSB4624 switch and CPU board systems offer a cost-effective solution for applications that require high-end performance in a wide range of computing environments.

"The CSB4624 switch helps to bring together our complete CompactPCI platform; processor blades, industrial strength chassis and now system interconnect ability." said Patrick Welzien, VP of Engineering for Diversified Technology, Inc. "This new switch design for CompactPCI is anchored in the core business success DTI has had with an AdvancedTCA product line of 1 and 10 Gigabit Ethernet switch technology. We've taken that engineering design experience and morphed those layouts to create this PICMG 2.16 Compliant 6U switch that performs above and beyond any other offering we've found in the COTS CompactPCI marketplace."

About the CSB4624
The convergence of data, voice, and rich media service networks requires communication from dense, integrated communications platforms. DTI's CSB4624 6U, PICMG 2.16 CompactPCI switch provides fully managed L2/L3 switching and routing capabilities to high-bandwidth CompactPCI applications. The CSB4624 provides the backbone to any CompactPCI implementation, delivering 24 ports of auto-negotiating 1G Ethernet. Such switching/routing capacity will allow CompactPCI installations to improve performance and versatility for today's bandwidth-hungry, media rich services.

The CSB4624 provides 24 ports of auto-negotiating 1G Ethernet. Up to 19 ports are delivered to payload slots within the chassis, with the remaining 5 lanes available through ingress/egress ports on the switch. Fully accessible via SNMP, Web Interface, Serial, Telnet, and SSH, the Ethernet management stack on the CSB4624 is provided through a third party with emphasis on Enterprise support. DTI utilizes the Full Source Model with the management software, which allows the creation of a customized and fully tweaked switch management stack that runs directly out of user memory-negating any license exposure issues that are sometimes found on other switches.

The Ethernet management functionality fully supports IPv4/6 L2/L3 switching, routing, and quality of service protocols, and offers superior performance in certain critical protocols, such as Rapid Spanning Tree, Port, MAC, and Subnet based VLANs, IGMP, and Jumbo Frames. Layer 3 functionality includes static routes with weighting, RIPv2, OSPFv2, VLAN Routing, VRRP, and more. In utilizing the management software in this manner, DTI has been able to focus solely on providing superior L2 and L3 switching and routing functionality with the CSB4624.

Within an Ethernet network, two key protocols come into play when supporting redundancy: Multiple Spanning Tree Protocol (an extension of Rapid Spanning Tree) and Link Aggregation Group. Multiple Spanning Tree Protocol is an extension of Rapid Spanning Tree and Spanning Tree. Spanning Tree Protocol (STP) allows loops and redundant links to exist on a single network by allowing only one active path between any two network devices. Rapid STP works to make the network adapt to changes much more quickly than it would without it. Multiple STP is an extension of RSTP that gives VLAN support to STP. With hardware that supports STP, RSTP, and MSTP, a network is provided 1+M (1 active, M Standbys) redundancy, because only one path is allowed to be active at a given time.

In the presence of a Link Aggregation Group (LAG), network designers can combine multiple links between many network devices and group them as a single link, providing increased throughput and redundancy. By combining MSTP and LAG on the CSB4624, DTI has allowed for N-way active (all N active) redundancy for higher throughput and availability between systems and networks.

The CSB4624 is targeted for OEMs and Systems Integrators for use in Data and Telecommunications products and applications such as media gateways and video broadcasting equipment. It is well suited for support of embedded broadband applications including Internet voice, digital video, IP security, network monitoring, military applications and test equipment.

About DTI's CompactPCI Product Line

Diversified Technology, Inc. offers a full line of CompactPCI Systems based on advanced network switching capabilities and the latest processing technology from Intel. Low profile chassis come in 1U and 2U versions to save space in restricted environments. A 4U platform offers 8 slots for extreme flexibility with applications that require maximum processing performance. Each of DTI's three CPU blade offerings: the CPB4812 (Intel Core 2 Duo Processor), CPB4712 (Dual Core Intel Xeon Processor) and CPB4612 (Intel Pentium M Processor), are available with rear transition modules and XMC/PMC cards to give increased customizable options for your program. Visit www.dtims.com/cpci to see all of the CompactPCI solutions from Diversified Technology, Inc.

Availability and Pricing
The CSB4624 is available now in beta stage with product shipments coming Q4 of 2009. Pricing for the switch starts at $1,995.00 with quantity discounts available.

About Diversified Technology, Inc.
Diversified Technology, Inc. (DTI) is an embedded hardware company whose strength lies in the cohesive approach we use with our customers. This cohesive approach means DTI works hand-in-hand with companies to ensure they are getting the best performance, highest reliability, shortest time-to-market and the most efficient use of computing hardware for their program's embedded application. DTI, an Ergon Company, was founded in 1971 and has a history of design experience with standardized form factors such as AdvancedTCA, AMC, CompactPCI, PCI, ETX, and COM Express. (www.diversifiedtechnology.com)

All trademarks and tradenames are the property of their respective owners.

More from Controls & Controllers