Malvern Instruments Announces Global Agreement with Proveris Scientific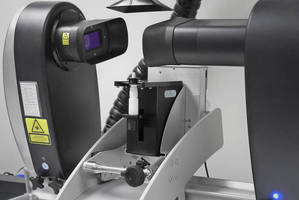 Malvern, UK: Malvern Instruments, a leader in the field of pharmaceutical material characterization, has announced a global agreement with Proveris Scientific Corporation, a company with complementary technology for orally inhaled and nasal drug product (OINDP) testing, to provide a complete solution for nasal spray characterization. This solution comprises the Solo™ for Spraytec system (Proveris), a high performance patented automated actuator and software for the precise control of the actuation profile applied during device testing, and the Spraytec laser diffraction particle size analyzer (Malvern), which measures the evolution of particle size in real-time during a spray event. In combination these technologies support the efficient optimization of nasal spray devices and formulations, and enable robust investigation of the parameters which may impact drug delivery.



"Malvern Instruments recognizes that the automated actuators that Proveris Scientific are known for are a valuable complement to the Spraytec for the investigation of nasal spray performance," said Ciaran Murphy, Head of Product Management at Malvern Instruments, "This agreement provides streamlined access to a complete solution for nasal spray analysis and more efficient support. While initially focusing on requirements for the pharmaceutical industry we are hopeful that over time the initiative will also deliver benefits for other industrial applications."



Controlling applied velocity during actuation of a nasal spray device ensures repeatable testing under representative conditions. The Solo™ for Spraytec system shares the patented MicroDrive™ technology of Proveris's Vereo® automated actuator platform, and comes complete with easy-to-use software that allows control of the actuator and records all the parameters applied during use.



The Spraytec laser diffraction particle size analyzer measures the particle size distribution of sprays and aerosols at a rate of up to 10,000 measurements per second, capturing the evolution of droplet or particle size in real-time. For OINDPs it is applied in bioavailability/bioequivalence (BA/BE) studies for nasal sprays, where laser diffraction is recommended by the FDA, and to characterize and rationalize the dispersion behavior of dry nasal powders, metered dose and dry powder inhalers.



To find out more about automated actuators from Proveris Scientific go to www.proveris.com/products-overview.htm



To find out more about Spraytec go to http://www.malvern.com/spraytec.



Malvern and Malvern Instruments, are registered trademarks of Malvern Instruments Ltd

Spraytec is a trademark of Malvern Instruments Ltd



Proveris, Proveris Scientific Corporation, Indizo, and Vereo are registered trademarks of Proveris Scientific Corporation.



Solo and MicroDrive are trademarks of Proveris Scientific Corporation.



About Malvern Instruments

Malvern provides the materials and biophysical characterization technology and expertise that enables scientists and engineers to understand and control the properties of dispersed systems. These systems range from proteins and polymers in solution, particle and nanoparticle suspensions and emulsions, through to sprays and aerosols, industrial bulk powders and high concentration slurries. Used at all stages of research, development and manufacturing, Malvern's materials characterization instruments provide critical information that helps accelerate research and product development, enhance and maintain product quality and optimize process efficiency.



Our products reflect Malvern's drive to exploit the latest technological innovations and our commitment to maximizing the potential of established techniques. They are used by both industry and academia, in sectors ranging from pharmaceuticals and biopharmaceuticals to bulk chemicals, cement, plastics and polymers, energy and the environment.



Malvern systems are used to measure particle size, particle shape, zeta potential, protein charge, molecular weight, mass, size and conformation, rheological properties and for chemical identification, advancing the understanding of dispersed systems across many different industries and applications.



Headquartered in Malvern, UK, Malvern Instruments has subsidiary organizations in all major European markets, North America, China, Japan and Korea, a joint venture in India, a global distributor network and applications laboratories around the world. www.malvern.com



Facebook: MalvernInstruments

Blog: www.materials-talks.com

Youtube: malverninstruments

Linked-In: malvern-instruments

Twitter: malvern_news

Google +: https://plus.google.com/105749461389316404960/posts#105749461389316404960/posts



USA contact:

Marisa Fraser, Malvern Instruments Inc.

117 Flanders Road, Westborough, MA 01581-1042  USA

Tel:  +1 508 768 6400

Fax: +1 508 768 6403 

marisa.fraser@malvern.com



Please send sales enquiries to:

Alison Vines, Malvern Instruments Ltd

Enigma Business Park, Grovewood Road, Malvern, Worcestershire WR14 1XZ  UK

Tel: +44 (0) 1684 892456

Fax: +44 (0) 1684 892789

salesinfo@malvern.com



www.malvern.com



About Proveris Scientific® Corporation

Proveris Scientific accelerates the success of nasal and aerosol drug developers by providing a proven testing protocol, patented instrumentation and methodology, and a software platform that unifies all test methods, data, and analysis. Proveris provides:



• Comprehensive solutions for the life of a spray or aerosol drug product

• Effective methodology and compliance support

• Innovative, patented testing technologies



Proveris instruments include Vereo® automated actuation platforms that deliver repeatable, representative operation of manual devices, SprayVIEW® measurement systems for making compendial spray pattern and plume geometry measurements, and Indizo® robotic systems for automated shaking, spraying and weighing of nasal sprays for pump delivery and spray content uniformity measurements.



Proveris's proven track record of dedication to customer success has made it the company pharmaceutical developers and the FDA rely on for software, instrumentation, protocols, and support for test regimes that bring next-generation spray-delivered drugs to market faster and more efficiently than outdated manual methods or home-grown rigs.



Proveris has developed integrated solutions with a dedication to reliability, ease-of-use and longevity. Furthermore, the company's software and instrumentation enable pharmaceutical spray and aerosol drug developers to focus on product development with confidence that their test platforms are collecting valuable data with the accuracy, security, and traceability required for prompt regulatory review.

www.proveris.com.

More from Agricultural & Farming Products