Male SMT Connectors include latch and PCB pegs.
Press Release Summary: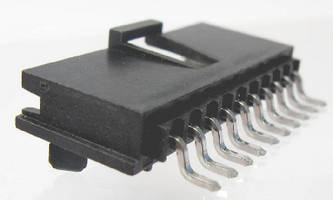 Designed to enable 90° soldering on PCB, Male 90° SMT Headers have latch and triangular molded pegs which align and brace PCB tails for trouble-free assembly and use. Headers are set in variety of single row configurations with 100 in. centerline and 2.54 mm pitch. In standard series, contacts can be selected as tin plated, selective gold plated, or gold plated. Featuring contact resistance of 20 mΩ max with current rating of 3 A/contact, connectors deliver 500 operations with gold contacts.
---
Original Press Release:

NEW: Male 90 Degree SMT Connectors with Latch & PCB Pegs



Nicomatic is launching latched male 90° SMT headers with latch & molded pegs which align and brace the PCB tails for trouble free assembly and use.



These new headers are designed to enable 90° soldering on PCB. Two functions allow the right PCB integration thanks to PCB pegs made for plated or non plated holes:



- Perfect locating on PCB

- Excellent PCB retention



The function of PCB pegs is usually sold as an option on the market and Nicomatic has considered it as a product standard given the above advantages & improvements for a SMT 90° PCB integration of the header (solder process).



The triangular shape of the pegs allows headers to hold well on PCBs. Even without soldering, if you need to confirm the locating, and once you have positioned your part, you can take your PCB upside down and not loose it.



The new headers are available under P/Ns 1L-10-5Y1-XX-1-P (XX = from 02 to 20 ways) set in a variety of single row configurations with 100" centreline (2.54mm pitch).



The product, industry standard compatible, is also 100% compatible with 2.54mm pitch Crimpflex™ female housings OL(H)xx, OM(H)xx and OJ(H)xx & 2SL discrete wire housings. It is manufactured of Glass filled plastic with a flammability rating of UL94V-0.



In the standard series, contacts can be selected as:

- tin plated

- selective gold plated

- gold plated



Contact resistance is 20mΩ max. with current rating of 3A per contact.

Mechanical endurance is 500 operations with gold contacts.



Nicomatic offers a wide range of other male PCB headers in the industry standard pitch of 2.54mm, without the PCB pegs functions, such as:



- walled headers 1Y type for mating with female Crimpflex¢â housings 2Exx (single row) and 4Exx (double row)

- straight & right angle latched headers 1L-10-1Y1-XX-1 & 1L-10-2Y1-XX-1

- standard pin headers, single row straight (12-17-1Y1-XX-1), right angle (12-21-1Y1-XX-1) & double row pin headers with P/Ns 16-17-1Y1-XX-1 (straight) & 16-21-2Y1-XX-1 (right angle)



Press contact: Sebastien CHARBONNEL

+33 (0)4 50 36 19 54 / +33 (0)6 03 09 66 22

Email: s.charbonnel@nicomatic.fr



Nicomatic in brief:

- SME business with 220 employees in France (HQ), USA, China, Brazil and India

- Innovative spirit & high degree of specialisation with a dedicated product portfolio in connectors & man-machine interface switching technologies.

- Over 35 years industrial experience.

- Working with all the world class leaders in avionics and defense.

- 30 Million USD consolidated turnover (est).

- 80% export (sales across 40 countries).

- 4 Subsidiaries in the USA, China, Brazil, and India, 30 distributors and 20 agents or representatives worldwide

- Certified to ISO 9001:2008 and EN9100:2009 for aerospace and defense.

- Full in-house manufacturing & design resulting in high quality products and fast deliveries.



More information online:



2D drawing: www.nicomatic.com/files/5/nicomatic-90_SMT_HEADER_PEGS.pdf  

More from Electrical Equipment & Systems