Male Edgecard Connectors have double-row design.
Press Release Summary: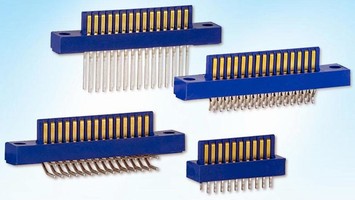 Designed to simulate 0.062 in. thick daughtercards, double-row connectors feature phosphor bronze, gold-plated contact fingers and provide 0.100 or 0.156 in. spacing interconnect system with 4-60 or 4-40 contact positions respectively. Products are supplied in dip solder, straight, or right-angle for through hole terminations and card-extender for straddle mount terminations. Rated for applications to 150°C, connectors withstand processing temperatures to 260°C.
---
Original Press Release:
Sullins' Double-Row Male Edgecard Connector Series Features 0.100
Edgecards Boast Gold-Plated Contacts to Ensure Performance in High-Reliability/High-Cycle Applications San Marcos, CA, July 16, 2008...Sullins Connector Solutions, Inc., a global leader in the design and manufacture of RoHS-compliant board level interconnect products, today announced the availability of a comprehensive series of male edgecard connectors designed to simulate 0.062" (1.58 mm) thick daughtercards. The parts provide engineers and assembliers with a durable 0.100" (2.54 mm) or 0.156" (3.96) spacing interconnect system when mated with a Sullins or comparable female edgecard. The double-row connectors notably feature phosphor bronze gold-plated contact fingers that can eliminate the need for gold plated fingers on the daughtercard. Supplied in dip solder, straight, or right angle for through hole, and card-extender for straddle mount terminations, they facilitate optimal design flexibility while ensuring robust and reliable connections in high-temperature applications. Materials are UL94V-0 rated. Parts are available with a choice of PBT or Nylon 9T insulators. The series features an operating temperature range of -65 degrees C to +150 degrees C, and a processing temperature of 260 degrees C peak. The male edgecard connectors are ideally suited for employment in an array of high-temperature, high-cycle life applications in which the circuit connection of PCBs or wire harnesses to 0.062" daughtercards are required. They are most commonly specified for use in test and burn-in ovens, along with communication systems, process control, medical equipment, instrumentation, and automotive R&D. Devices can also be configured as a test cable for a PCB in the absence of a daughtercard. Connectors with 0.100" centerlines are offered with from 4 to 60 contact positions, while 0.156" centerline devices may be ordered with from 4 to 40 contact positions. The parts' phosphor bronze contacts are provided standard with 10µ" or 30µ" overall gold over 50µ" nickel. Tail options include 100µ" pure tin or 5µ" gold. Additional specifications include a current rating of 3 Amps per contact, and an insulation resistance of 5,000 Megaohms minimum at 125 VDC. They may be ordered with tail (contact) lengths ranging from 0.100" (2.54mm) to 0.560 (14.22mm), and with or without mounting ears. For complete specifications regarding operating, processing, temperature and material options for Sullins' male-to-female edgecard connectors, contact techsupport@sullinscorp.com. While firm pricing is determined according to customers' specifications, average male edgecard connector prices range from $0.086 to $0.147 per contact in quantities of 1,000. Delivery is 1 to 2 weeks ARO. Samples are available. About Sullins Connector Solutions, Inc. Headquartered in San Marcos, CA, Sullins Connector Solutions, Inc. (www.sullinscorp.com) has been a world leader in the design, engineering, and manufacturing of high-quality edge cards and headers since 1971. The Company provides the industry's widest selection of UL/cUL Recognized edgecards, and additionally offers product development services together with engineering support. Sullins' edgecards, headers, bi-level, and CompactPCIä connectors are widely specified for use in mission-critical applications by a broad spectrum of leading industrial, commercial, military and consumer products manufacturers. Sullins' connectors and interconnect systems are offered through a global network of sales representatives and distributors.
More from Software