Male Box Headers and Female Mates feature fully shrouded design.
Press Release Summary: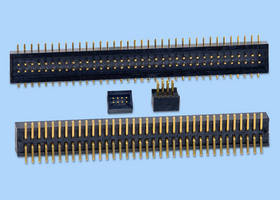 Featuring 0.039 in. centerline, dual-row SBH51 Series Male Box Headers and corresponding SFM210 Series Female Header Mates minimize risk of mismating in high-density board-to-board applications where optimal signal performance is required. Units come in 3-60 positions and have current rating of 1 A per contact. Provided in plate through hole, and with/without guideposts in surface mount terminations, UL94V-0 connectors feature extended temperature range of -40 to +125°C.
---
Original Press Release:

Sullins Connector Solutions Adds 1.00 MM Contact Centerline Parts to Fully Shrouded Box Header and Mate Portfolio



Dual-Row Devices Provide Optimal Connection Integrity in An Array of High-Density Board-to-Board Applications

San Marcos, CA - Announced today by Sullins Connector Solutions, a global leader in designing and manufacturing RoHS-compliant board-level interconnects, is the addition of the dual-row 1.00 mm (0.039") centerline SBH51 Series Fully Shrouded Male Box Headers and corresponding SFM210 Series Fully Shrouded Female Header Mates. Parts are the newest members of the expanding SBH and SFM Series of fully shrouded devices, and are engineered to minimize the risk of mismating in high-density board-to-board applications where superior signal performance is required. Provided in plated through hole (PTH), and with/without guideposts in surface mount (SMT) terminations, parts facilitate design flexibility and manufacturing efficiencies while helping customers reduce vendor count. The UL94V-0 connectors feature an extended temperature range of -40 degrees C to +125 degrees C, and are compatible with reflow processes up to 260 degrees C peak.

An ideal interconnect solution for a wide range of high-density consumer, commercial and industrial applications where a PCB needs to be connected to another board, the 1.00 mm pitch series are frequently specified for use on PCBs in household appliances, testing, computer, process control, security systems and telecommunications equipment. They are particularly appropriate for connecting boards in HVAC equipment, gasoline pumps, and vending machines.

These dual-row connectors are offered in 3 through 50 (6 to 100 pins) positions and have a current rating of 1 A per contact. Sullins' SBH51 Series of headers may be ordered with either 10 microinch gold overall or gold flash overall plating; SFM210 Series of female mates are supplied with overall 10 microinch gold plating. Both series are provided with phosphor bronze contacts. Insulator material is black liquid crystal polymer (LCP), and insulation resistance is 1000 mega-ohms. For detailed specifications regarding operating, processing, temperature and material options, visit techsupport@sullinscorp.com.

In quantities of 1K, average pricing for Sullins' SBH51 Series of headers ranges from $0.598 to $6.46 each. Per-piece pricing for the SFM210 Series of female header mates ranges from $0.631 to $9.30 Delivery is 4 weeks. Samples are immediately available.

About Sullins Connector Solutions

Headquartered in San Marcos, CA, Sullins Connector Solutions, Inc. (www.sullinscorp.com) has been a world leader in the design, engineering, and manufacturing of high-quality card edge connector and headers since 1971. The Company provides the industry's widest selection of UL/CUL approved card edge connectors, and additionally offers product development services together with engineering support. Sullins' card edge connectors, headers, bi-level and CompactPCI connectors are widely specified for use in mission-critical applications by a broad spectrum of leading industrial, commercial, military and consumer products manufacturers. Sullins' connectors and interconnect systems are available through a global network of sales representatives and distributors.

Sullins Connector Solutions, Inc.

801 E. Mission Road

San Marcos, CA 92069

888/774-3100; Fax: 760/744-6081

www.sullinscorp.com

Contact: Wade Harb, wharb@sullins.com


More from Communication Systems & Equipment