Makita Presents Latest Concrete Solutions at World of Concrete 2011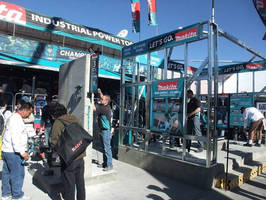 More hands-on demo's allow concrete contractors & dealers to feel the difference for themselves

La Mirada, CA Makita joined nearly 50,000 concrete contractors and dealers under brilliant sunny skies in Las Vegas for four days of hammering, surfacing and drilling at the annual World of Concrete trade show.

The World of Concrete is the concrete industry's largest annual event, and Makita was there with Experience More, the 53-foot interactive tool display on wheels. Makita also offered hands-on demonstrations of its latest concrete solutions, with several tons of 4,000 PSI concrete formed in flat slabs and upright walls so attendees could try out the tools for themselves.

"Makita power tools deliver industrial strength performance with less vibration in a more compact size, and are engineered to beat up the concrete, not the end user. World of Concrete is a great opportunity to demonstrate these concrete solutions in an interactive setting," said Wayne Hart, Communications Manager, Makita USA. "This year we offered more new products with more concrete and more demonstrations, and the response was overwhelmingly positive. Once again, World of Concrete delivered great weather, and a great audience that stepped up and felt the difference for themselves."

For World of Concrete attendees, the Makita booth experience is all about trying out the tools and feeling the difference for themselves. At the 2011 event in Las Vegas, Makita offered more new products with more concrete for hands-on demo's, including an 8-foot upright wall for drilling (top-right), new dust extraction accessories for grinders and rotary hammers (right), and several large slabs of concrete for new demolition hammers (far right). Makita offered several hands-on demonstrations of new and existing products, including three brand new demolition hammers: the HM1307CB 35lb (1-1/8" Hex), HM1203C 20lb (SDS-Max) and HM0870C 11lb (SDS-Max), as well as two new dust extraction accessories.


New 35 lb. Demolition Hammer (HM1307CB): Combines more control and less vibration with hard-hitting power. The new HM1307CB is powered by a 14 AMP Makita-built motor with 34.9 Joules of impact energy and 730-1,450 BPM. At only 12.2 m/s2 vibration, the HM1307CB is engineered to deliver more power to the work surface for more efficient work. Ease-of-use features include a rubberized ergonomic soft grip to provide more comfort and control, and the easy-to-operate slide switch to increase productivity and allow for continuous use. In addition, the side-handle swivels 360° for greater control.

New 20 lb. Demolition Hammer (HM1203C): Engineered with more power, more impact energy, and less weight than the previous model. The new HM1203C is powered by a 14 AMP Makitabuilt motor with 18.8 ft. lbs./ 25.5 joules of impact energy and 950-1,900 BPM. At only 15.5 m/s2 vibration, the HM1203C is engineered to deliver more power to the work surface for more efficient work. The HM1203C weighs only 20.3 lbs. for an improved power-to-weight ratio, and it's ideal for vertical and horizontal applications.

New 11 lb. Demolition Hammer (HM0870C): Engineered with more power than the previous model. The new HM0870C is powered by a 10 AMP Makita-built motor with 11.4 joules of impact energy and 1,100 - 2,650 BPM. At only 11.0 m/s2 vibration, the HM0870C is engineered to deliver more power to the work surface for more efficient work. The HM0870C weighs only 11.1 lbs. for improved power-to weight ratio.

New Dustless Hammer Attachment: World of Concrete attendees tried out Makita's new Dustless Hammer Attachment (#193472-7), and discovered several advantages vs. competitive built-on systems including better tool performance (competitor built-on vacuum motors draw power from the tool resulting in less impact energy/BPMS), and longer cordless run time (battery has to power both the vacuum motor and tool motor on competitive tools, greatly decreasing the tool runtime on one charge). Other advantages include better dust extraction (industrial vacuums are much more powerful than built-on systems, and the result is more efficient dust extraction), and smaller size and less weight (25% less weight without vacuum components and motor attached to the tool). The new Dust Hammer Attachment features a 17" hose, telescoping springloaded barrel, depth stop and bit size adjustment knobs, and a built-in ruler.

Grinder Dust Shroud: Makita also demonstrated the new dust shroud accessory for 4-1/2" - 5" Grinders. The accessory features a 4-spring suspension system that keeps the shroud flush with surface during movement and compensates for blade wear, a removable edge piece for surface work flush to edges or other objects, and soft brushes that prevent dust from escaping and help move the tool over the surface all along edge. The standard hose fitting (OD 1-7/16") will work with most vacuum systems. The new Dust Shroud is ideal for concrete finishing, concrete material removal, and paint or surface coating removal.

Cordless Solutions: In 2005 Makita launched the industry's first 18V Lithium-Ion line-up, and today there are over 35 cordless solutions - and one battery. Makita offered demonstrations of several cordless solutions for concrete contractors including SDS-PLUS Rotary Hammers (BHR202, BHR241), the ½" High Torque Impact Wrench (BTW450), and the new 18V Compact Lithium-Ion Cordless ½" Driver-Drill (LXFD01CW).

In addition to displays and demonstrations of the latest concrete solutions, Makita was joined by the Rockstar Makita LeDuc Race Team and their 900 HP Truck (which they started-up a few times, to the delight of the many race fans at the event). Curt, Kyle, and Todd LeDuc are the best family race team in the off-road business, and they use Makita tools to keep their trucks on-track in high-energy racing throughout the year. The Rockstar Energy Drink models were also on-hand for photos and poster signing (right). All photos can be downloaded at makitanation.com

About Makita USA
Makita is a worldwide manufacturer of industrial quality power tools and offers a wide range of industrial accessories. Makita utilizes leading-edge technology and innovation to engineer tools that are more compact with less weight yet deliver industrial strength power and results. Makita's extensive line of cordless lithium-ion tools includes 18V LXT® Lithium-Ion, 18V Compact Lithium-Ion®, and 12V max Lithium-Ion Other best-in-class products include rotary and demolition hammers and saws equipped with Anti-Vibration Technology(TM) (AVT(TM)), 4-Cycle outdoor power equipment, Super Joint System (SJS) grinders, miter saws engineered with Deep and Exact Cutting Technology (DXT), and more. Makita U.S.A., Inc. is located in La Mirada, California, and operates an extensive distribution network located throughout the U.S. For more information, please call 800/4-MAKITA (800/462-5482) or visit the website at makitatools.com. You can follow Makita at facebook.com/makitatoolspage, twitter.com/makitatools, and youtube.com/makitapowertools. The Makita Teal color is the trade dress of Makita Corporation and is protected under common law and registered with the U.S. Patent and Trademark Office. Makita is Best in Class Engineering.

Makita sponsorship partners Rockstar Energy Drink and the Rockstar Makita LeDuc Race Team were on-hand for photos and poster signing.

More from Sensors, Monitors & Transducers