Makino to Detail Latest Technologies for Efficient Aerospace Part Production at 2013 Paris Air Show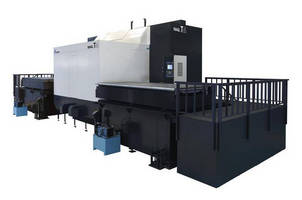 Mason, Ohio -- Makino plans to detail its latest technologies and process solutions for aerospace engine and structural components at the 50th International Paris Air Show from June 17 to 23 in Stand A-110 of Hall 3 of Le Bourget exhibition centre. The company is going to discuss several titanium, aluminum, grinding and EDM machining strategies, including Makino's new T-Series - the only purpose-built titanium machining centers with the award-winning ADVANTiGE™ technology.



"We invite attendees of the 2013 Paris Air Show to meet with our senior executives, key designers and applications engineers to discuss their unique challenges and discover new technology solutions," said Mark Rentschler, Makino marketing manager. "With all-new solutions for titanium, aluminum, EDM and grinding applications, we are prepared to equip manufacturers with the productivity, quality and profitability to gain a competitive edge in the global aerospace marketplace."



Several key technologies that Makino plans to detail at the event include the T-Series, A-Series, G-Series and EDBV3 machining centers.



• Makino's T-Series 5-axis horizontal machining centers with ADVANTiGE technology provide the rigidity, dynamic stiffness, vibration damping and thermal control necessary to overcome the traditional limitations of titanium machining with four times the productivity and up to nine times the tool life of conventional machining processes, making it an ideal solution for large titanium and titanium alloy aerospace part production.



• The A-Series 5-axis horizontal machining centers offer high-efficiency machining of large, complex aluminum monolithic aerospace parts. The machines incorporate Makino's latest machining features and technologies, including Volumetric Accuracy Compensation and a high-power, high-speed spindle.



• For high-nickel-alloy blade and vane production, Makino's G-Series 5-axis horizontal machining centers offer the flexibility and capability to perform grinding, milling and drilling in one machine platform, eliminating multiple set ups and non-value-added time.



• The new EDBV3 EDM hole-drilling machine is designed specifically for the production of cooling holes and diffuser shapes in aerospace blades and vanes. The EDBV3 provides aerospace manufacturers with the speed, flexibility and reliability to effectively produce a wide range of hole shapes and sizes within a single setup, significantly reducing required tool variety and overall cycle times.



Learn how to make the aerospace parts that matter by visiting with Makino in Chalet C10 or at Stand A-110 of Hall 3 at the 2013 Paris Air Show. For more information, visit www.makino.com/paris.



About Makino

A world leader in advanced CNC machining centers, Makino is committed to providing high-performance, leading-edge machining technologies and innovative engineered process solutions that enable manufacturers to focus on making what matters. Makino offers a wide range of high-precision metal-cutting and EDM machinery, including horizontal machining centers, vertical machining centers, 5-axis machining centers, graphite machining centers, and wire and Ram EDMs. Makino's flexible automation solutions provide reduced labor costs and increased throughput in a variety of production volumes and designs. Makino's engineering services offers industry-leading expertise for even the most challenging applications across all industries. For more information, call 1-800-552-3288 or visit makino.com.



For more information, additional images and releases, visit www.makino.com/media.  Connect with Makino on Facebook at www.facebook.com/makinomachine. Follow Makino on Twitter at www.twitter.com/makinomachine.



More from Material Handling & Storage