Making Old Buildings New Again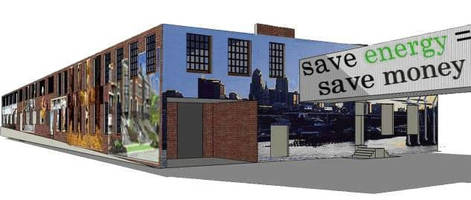 BASF's Neopor® expandable polystyrene helps renovate Civil War building into a new learning center

FLORHAM PARK, NJ, November 10, 2009 - GreenTek Building Solutions in DuBois, Pennsylvania, has created a new product called InsulWall(TM) interior wall system, using BASF's Neopor expandable polystyrene (EPS) as the insulation ingredient. The crucial difference in Neopor versus standard white EPS is that it contains graphite particles, which significantly improves insulation capacity and gives it a silver-gray color.

GreenTek's InsulWall was chosen by the Pennsylvania Energy Coordinating Agency (ECA) to retrofit a historic three-story Civil War building used to manufacture war uniforms located in Philadelphia, Pennsylvania. The building will be converted into a modern learning center providing students with state-of-the-art energy conservation training and professional certification for green collar positions. The center will work with
community colleges, technical schools and employers in the region who need
their students and workers trained in green technology. The 20,000
square-foot center will house classroom and laboratory space with operable heating and air conditioning equipment, rooftop solar panels and other real-life situations that green techs encounter in residential and commercial buildings.

Yesterday's technology

Old brick lath buildings were not energy-efficient since they usually were built without wall cavities to hold insulation. Brick, a natural material, will absorb heat or cold and transmit that energy into a room. For interior walls, it was general practice to mount gypsum board directly to the brick wall, which afforded poor thermal protection.

Today's technology

InsulWall, a thin product that has Neopor EPS insulation laminated to paperless mold-resistant gypsum board, can be easily applied to interior walls without decreasing the size of the room while eliminating high costs of retrofitting. OPCO from Latrobe, Pennsylvania, manufactured the new composite product.

"It is no surprise that GreenTek's InsulWall was chosen for retrofitting this building," said John Monti, President, GreenTek Building Solutions.

"Our InsulWall, which incorporates Neopor, provides results for energy savings - the essence of this new training center."

Neopor out performs other traditional materials by:

Energy Savings: Producing thinner parts consumes fewer resources; in addition, more efficient insulating technology means it takes less energy to heat and cool a building to the same degree.

Cost Savings: Working with thinner panels translates to lower construction and installation costs, as well as lower transportation and handling costs.

Flexibility: Work that requires a reduction in the thickness of insulation materials, for example in retrofit projects, can easily be carried out using insulating boards that are thinner than conventional EPS, but can offer better R-value per inch thickness.

Handling: Elimination of sun glare from white panels makes it easier on the eyes. Insulating boards made from Neopor are quick to lay in any weather and are easy to cut and sand.

Durability: Neopor rigid foam boards are resistant to mold, mildew and rot and are extremely strong and dimensionally stable. They are vapor-permeable, highly water-resistant and have low moisture absorbency.

GreenTek's building products are designed to meet all green building requirements in both residential and commercial markets and are the only patent pending wall systems in the world with all these exclusive features:

o GREENGUARD Indoor Air Quality Certified® components -- no VOCs Insulation options up to R-38 will dramatically reduce heating and cooling costs

o Unlimited design potential allows you to choose your surroundings Integrated steel stud systems for stability and strength

o Professional, seamless finish avoids that "manufactured" look

o Superior R-10 mold and moisture resistance

o Easy-to-assemble components for fast labor saving installation

o Easily reconfigured to accommodate changes without reconstruction or solid waste

o All components are recyclable

o Vertical and horizontal chases make wiring and plumbing easy

o Limited lifetime warranty

For more information contact:

Kathy Dennis

BASF Corporation

Tel: (973) 245-6288

E-mail: kathy.dennis@basf.com

BASF - The Chemical Company. We don't make a lot of the products you buy.
We make a lot of the products you buy better.®

BASF Corporation, headquartered in Florham Park, New Jersey, is the North American affiliate of BASF SE, Ludwigshafen, Germany. BASF has more than 15,000 employees in North America, and had sales of approximately $17.5 billion in 2008. For more information about BASF's North American operations, or to sign up to receive news releases by e-mail, visit www.basf.com/usa.

BASF is the world's leading chemical company: The Chemical Company. Its portfolio ranges from chemicals, plastics and performance products to agricultural products, fine chemicals and oil and gas. As a reliable partner, BASF helps its customers in virtually all industries to be more successful. With its high-value products and intelligent solutions, BASF plays an important role in finding answers to global challenges such as climate protection, energy efficiency, nutrition and mobility. BASF posted sales of more than 62 billion in 2008 and had approximately 97,000 employees as of the end of the year. Further information on BASF is available on the Internet at www.basf.com.

GreenTek Building Solutions, LLC

GreenTek(TM) Building Solutions, LLC was established by a consortium of home remodeling and construction professionals whose focus was to create an affordable GREEN interior wall system for both residential and commercial use. With over a century of experience, our experts have created a company that has not only accomplished these goals, but is also managing to redefine standards in the green building industry. GBS is focused on customer satisfaction with uncompromising integrity and a commitment to the preservation of our natural resources. We hold strong values in business and fully respect our customers, dealers, manufacturers, employees and the environment in which we live. Without exception, we conduct business with superior ethical standards.

More from Materials