Make-Up Air Heaters utilize proprietary, efficient burner.
Press Release Summary: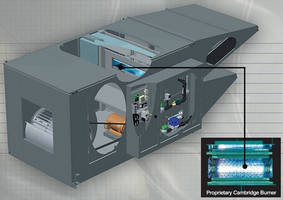 For reliability and energy conservation, Cambridge M-Series features 100% direct-gas fired combustion efficiency and includes Low-Fire Start Technology as well as stainless steel burners. Products provide year round ventilation and tempered make-up air for commercial and industrial applications. Available with Variable Frequency Drive (VFD) control to respond to varying air needs, indoor and outdoor mounted units offer ratings up to 75,000 cfm and 8,000 MBtuh.
---
Original Press Release:

State-Of-The Art Make-Up Air Heating Technology from Cambridge Engineering



Cambridge announces state-of the art energy efficient Make-Up Air Heaters with proprietary burner and patented Low-Fire Start Technology.

Chesterfield, MO - Cambridge Engineering announces a state-of-the art, competitively priced, energy efficient Make-Up Air Heater product line with 100% direct-gas fired combustion efficiency. All Cambridge M-Series Make-Up Air Heating Units now include patented Low-Fire Start Technology and proprietary stainless steel burners that increase reliability and save energy.

Cambridge Air Make-Up Systems are designed to provide year round ventilation and tempered make-up air for a wide variety of demanding commercial and industrial applications. Make-Up Air (MUA) units are available with Variable Frequency Drive (VFD) control to respond to varying air needs in order to reduce operating costs. Indoor and outdoor mounted make-up air heaters are available with ratings up to 75,000 cfm and 8,000 MBtuh. DX or chilled water coils and evaporative cooling options can also be specified for these MUA units.

Typical commercial and industrial makeup air heating applications include providing ventilation with outside air for: factories, manufacturing and assembly plants; spray paint booth areas; waste water and sewage treatment plants; automobile service, repair and body shops; gymnasiums and indoor sports facilities; restaurants and commercial kitchens; parking garages.

"Not all make-up air heaters are alike." said Ken Williams, Director of Marketing for Cambridge Engineering.

Only Cambridge manufactures its own proprietary high performance, stainless steel burner with the industry's highest input rating per linear foot of burner. You can't get the high performance and extended life of a Cambridge burner unless you have Genuine Cambridge Make-Up Air Heating Equipment. Cambridge offers the industry's best direct gas-fired make-up air heater warranty package that includes 5 years on the stainless steel Cambridge burner.

Cambridge is also the only manufacturer to provide a low-voltage hot-surface igniter, the most dependable gas ignition system for gas-fired products, with the recently patented Cambridge Low-Fire Start technology that ensures smooth and consistent main burner light-off to increase reliability and save energy.

About Cambridge Engineering:
Established in 1963, Cambridge is a manufacturing company with strong R&D, engineering and customer oriented problem solving capabilities. Energy efficient Cambridge space heaters and make-up air equipment reduce installation costs, operating costs and improve indoor air quality for a wide variety of commercial and industrial facilities.

For more information, visit www.cambridge-eng.com or call 800-899-1989

Related