Major Deal: Italian Haulier Purchases 1,000 Volvo Trucks with Latest Fuel Saving Technology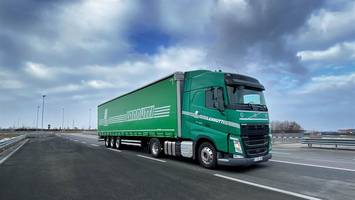 Lannutti Group, an Italian transport and logistics company, has ordered 1,000 new Volvo FH trucks with the latest fuel saving technology, I-Save. The company sees the potential to reduce its fuel consumption by 10 per cent as well as lower CO2 emissions.
Lannutti Group operates in eight European countries with a fleet of 1,800 trucks. Its decision to invest in 1,000 new Volvo FH trucks was made after a comprehensive year-long fuel test, where the new Volvo FH equipped with I-Save was compared with other trucks in a mixed fleet. The result was a staggering fuel reduction of 10 per cent compared to an equivalent standard truck.*
"The fleet renewal principle for us at Lannutti Group is to prioritize low emission vehicles. Apart from reliability, the most important factors for us are to keep the weight of the truck as low as possible to allow for a high payload and keep the fuel consumption to a minimum. After the positive test period, we decided that all new Volvo trucks should be I-Save trucks," says Valter Lannutti, CEO at Lannutti Group.
The I-Save version of the Volvo FH combines an extra fuel-efficient engine with fuel-saving features, which reduce fuel consumption in long-haul operations – without compromising drivability. They are also equipped with additional safety features, such as Lane Changing Support and Driver Alert Support, which help avoid accidents.
"We don´t compromise on safety. It´s important to offer our drivers a safe and comfortable workplace, but it´s also a way to help secure our deliveries. Luckily, most accidents are minor. Nevertheless, the trucks often need repairs and it´s costly when a truck is out of business. All in all, I believe that the additional safety systems are a good investment," says Valter Lannutti.
The order of 1,000 Volvo FH with I-Save will be delivered to Lannutti during 2021 and 2022.
"We have a long and trusting business relationship with Lannutti Group and I am really proud that they put their trust in Volvo and that they confirm the outstanding fuel performance our I-Save trucks deliver. This is equally important for the climate as for our customers," says Roger Alm, President Volvo Trucks.
Facts
Every feature of I-Save has been designed to cut fuel costs.
Included in the Volvo FH with I-Save:
D13TC (Turbo Compound) 460 hp (2 600 Nm) or 500 hp (2 800 Nm) engine
Highly fuel-efficient rear axles
Engine idle shutdown
I-Cruise with I-Roll, which adjusts speed to keep down fuel consumption
Power Steering Pump with Variable Displacement
Updated I-See
Updated I-Shift with long-haul optimised software
* compared to standard Volvo FH with Euro 6 step C engine.
Link to high resolution images.
Journalists wanting further information, please contact:
Jan Strandhede, Volvo Trucks Media Relations, +46 76 553 37 15
For more information, please visit volvogroup.com
The Volvo Group drives prosperity through transport and infrastructure solutions, offering trucks, buses, construction equipment, power solutions for marine and industrial applications, financing and services that increase our customers' uptime and productivity. Founded in 1927, the Volvo Group is committed to shaping the future landscape of sustainable transport and infrastructure solutions. The Volvo Group is headquartered in Gothenburg, Sweden, employs almost 100.000 people and serves customers in more than 190 markets. In 2019, net sales amounted to about SEK 432 billion (EUR 40.5 billion). Volvo shares are listed on Nasdaq Stockholm.
Related