Maguire Syncro Extrusion Control System Increases Productivity and Reduces Material Cost
Press Release Summary: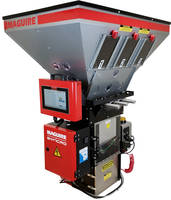 Consist of Maguire® WXB™ Weigh Extrusion Blender, Maguire 4088 controller and Syncro® controller
Available in pounds or kilograms per hour, weight per length of extrudate and product thickness in microns modes
Enables the blown film processor to maximize throughput while maintaining tight tolerances, or to reduce material consumption by down-gauging
---
Original Press Release:
Modular Extrusion Control System for Blown Film Maximizes Productivity of New and Existing Production Lines
For New Blown Film Lines, a Turnkey Maguire® + Syncro System Includes Key Production Components from Material Handling to Haul-Off
Aston, PA, U.S.A., October 28, 2019: An innovative extrusion control system for blown film can be deployed in a new production line as part of a total system providing single-point supervision of all line components, or it can be used in an existing line to increase productivity and reduce material cost. At K-2019, Maguire Products displayed this system in a complete extrusion line employing the new technology.
For a new blown film extrusion or coextrusion line, there are three basic components at the heart of the Maguire® + Syncro extrusion control system: 1) the Maguire® WXB™ Weigh Extrusion Blender, which incorporates a gain-in-weight (GIW) weigh bin and a loss-in-weight (LIW) mix chamber; 2) the Maguire 4088 controller, which controls the loading, blending, and metering of raw material to the extrusion process; and 3) the Syncro® controller, which uses the consumption data from the 4088 controller to control line speed and haul-off. Modes of extrusion control available with the Maguire + Syncro system include pounds or kilograms per hour; weight per length of extrudate; and product thickness in microns.
The Maguire + Syncro system is the product of a partnership between Maguire and Italy-based Syncro srl that began in 2016 with Maguire taking an investment position with Syncro, which specializes in controls for all types of extrusion process. If, in addition to extrusion control, the blown film manufacturer seeks to achieve single-point control of the entire production line, Syncro has developed the Syntrol™ supervisory system, which allows multiple line controls to be visualized and synchronized from one touchscreen. These controls include those for extruder temperature and pressure, air ring, IBC, thickness gauge, cage, and haul-off.
Along with the Syntrol controller, Syncro supplies key line components, including:
Air Ring and Auto Profiler. Typhoon™ and Flyer™ systems automatically maintain film tolerances while increasing productivity and reducing scrap
IBC and Layflat Controls. Syibc™ IBC control automatically manages blower balance while coordinating all blower functions; the Vortyx™ integral cooling device increases cooling capacity. The systems are designed to maximize accuracy
Gauging Systems. A wide range of scanning devices provide continuous measuring of product thickness
Rewinder. Ecosys™ automatic rewinder accurately controls reel tension in the production of stretch film
A turnkey system that includes these components plus loading and blending equipment from Maguire is available directly from Syncro and can also be ordered through Maguire representatives. In addition to the WXB blender and 4088 controller, Maguire produces the compact MLS™ "mini-central" loading system; the FlexBus™ plant-wide conveying system, which can operate up to five vacuum pumps and 240 receivers; and the FlexBus Lite system, allowing local control of a single pump and up to ten receivers.  
For an existing production line which includes a standard Maguire Weigh Scale Blender instead of the WXB unit, the processor can obtain the new extrusion control capability by installing the 4088 controller, a loss-in-weight hopper, and the Syncro controller.
"The enhanced accuracy and reliability of a state-of-the-art extrusion control system enables the blown film processor to maximize throughput while maintaining tight tolerances, or to reduce material consumption by down-gauging," said Frank Kavanagh, Maguire vice president of sales and marketing. "The Maguire + Syncro system provides this level of accuracy, drawing on Maguire's expertise in control of material dosing with Syncro's expertise in controlling extrusion lines." 
For information on Syncro srl, including Syncro locations in Europe, the Americas, and Asia, visit www.syncro-group.it
Related