Maguire® MMT™ Micro Tower delivers streamlining rate up to 100 lb. per hour.
Press Release Summary: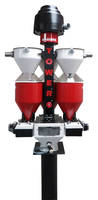 Maguire® MMT™ Micro Tower Handling device designed for small-volume plastics processing combines loading, dosing, mixing, and dispensing functions. Unit can mix materials such as virgin resin, regrind and masterbatch in 10 lb. batches in extrusion processes or injection molding. Device is equipped with loader, three material hoppers and blower driven by brushless motor.
---
Original Press Release:
Compact All-in-One 'Micro Tower' for Small-Volume Processes Loads, Doses, Mixes and Controls Blends of Three Materials
New MMT™ Micro Tower from Maguire Streamlines Material Handling for Molding and Extrusion at Rates up to 100 lb. (45 kg) per Hour While Providing Precise Batch Accuracy
A new type of raw material handling device for small-volume plastics processing combines loading, dosing, mixing, and dispensing functions in one compact system governed by a single controller. Maguire Products, Inc. will introduce the system at NPE2018 (Booth W5747).
The Maguire® MMT™ Micro Tower mixes up to three materials - such as virgin resin, regrind, and masterbatch - in 10 lb. (4.5 kg) batches for injection molding or extrusion processes with throughputs up to 100 lb / 45 kg per hour. The compact tower mounts at the throat of the processing machine, with no floor space required for a vacuum pump. To ensure accuracy, the loader and three material hoppers operate on a loss-in-weight basis under simultaneous direction by the controller.
"The MMT Micro Tower replaces elaborate and often over-sized combinations of separate pieces of equipment with a single, compact, relatively inexpensive system designed specifically for low-volume production," said Frank Kavanagh, vice president of sales and marketing. "It is simple to install, easy to access for material changes, and intuitively controlled by the operator."
The blower in the MMT Micro Tower is driven by a lightweight brushless motor. Filters are cleaned by Maguire's patented dust-clearing blow-back system. Like all Maguire equipment, the MMT Micro Tower is backed by a five-year warranty.
MAGUIRE PRODUCTS, INC., headquartered in Aston, Pennsylvania, U.S.A., is the world's largest supplier of gravimetric blenders, liquid color pumps, and vacuum dryers and also manufactures loading systems, auger feeders, granulators and related equipment and software. Its customers include injection, blow, and rotational molders, extrusion processors, and compounders. Founded in 1977, Maguire operates six manufacturing facilities in Aston. The company maintains a network of distributors in the Americas and overseas and has three sales and service subsidiaries that stock, sell, and service auxiliary equipment systems from Maguire and its affiliate, Novatec, Inc.: Maguire Canada, Maguire Europe, Maguire Asia, and Maguire IMEA. Visit www.maguire.com.
More from Explosives, Armaments, and Weaponry