Magstripe Reader works with smartphones and tablets.
Press Release Summary: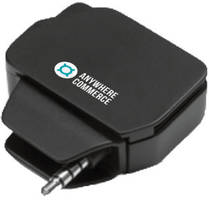 When plugged into audio jack of smartphone or tablet, Rambler 3.0 mobile Point-of-Sale Reader enables secure acceptance of magnetic stripe card payments. Unit supports multiple payment methods, including debit, credit, gift, and loyalty card transactions. Designed with clip-arms for secure fit when attached to smartphone or tablet, Rambler 3.0 employs encryption technologies, and is operational on all major platforms, including Android, iOS, Windows 8.1, and Windows Phone 8.
---
Original Press Release:
AnywhereCommerce Launches Rambler 3.0(TM)Mobile Point-of-Sale Magstripe Reader
Leading global provider of mobile payment solutions releases its third generation of this popular device

MONTREAL, – AnywhereCommerce, a global payments technology provider, unveils the latest and most innovative version of its highly popular mobile payment acceptance device, Rambler 3.0. The newly redesigned Rambler 3.0 is engineered with increased flexibility to work with most smart phone and tablet cases. When plugged in via the audio jack, Rambler 3.0 transforms smartphones and tablets into full-featured, highly secure mobile points-of-sale (mPOS), enabling secure and reliable acceptance of magnetic stripe card payments.

"With over 500,000 units in operation throughout the world today, our Rambler product-line continues to prove itself a dominant solution, dependably serving mCommerce needs across multiple global markets," said Mitchell Cobrin, founder and chief executive officer for AnywhereCommerce. "The latest design innovations in Rambler 3.0 incorporate engineering improvements to further enhance the product line's reliability and quality performance in card-present magstripe payment acceptance. With updated design features, users no longer have to remove their smartphone/tablet case in order to take a magstripe order."

Supporting multiple card-present magstripe payment methods, including debit, credit, gift and loyalty card transactions, Rambler 3.0 is a cost-effective solution for nearly any card acceptance need. This third-generation release of the product includes a redesigned form factor featuring flexible clip-arms for a surer, more snug and secure fit when attached to a smartphone or tablet. Rambler 3.0 employs AnywhereCommerce's patented audio jack connectivity and encryption technologies, and it is operational on all major platforms, including Android, iOS, Windows 8.1, and Windows Phone 8 operating systems.

"Heartland Payment Systems has relied on the Rambler devices as a critical element of its 'Mobuyle' mCommerce solution, and we are excited to get the newly designed Rambler 3.0 into the hands of our merchant customers," said Mike English, Executive Director of Product Development at Heartland Payment Systems. "Rambler 3.0 enables Heartland to continue to deliver high-quality mCommerce solutions with basic magstripe payment acceptance requirements that are highly reliable and at a very attractive price point."

About AnywhereCommerce
AnywhereCommerce is a global mobile payments technology solutions provider with a portfolio of IP, including the de facto audio-jack patents. AnywhereCommerce offers a global suite of hardware, software and gateway solutions for secure online and mobile; card-present credit, debit, Chip (PIN and signature),and NFC transactions. Our Universal "aCommerce Platform" designed for iOS, Android, Blackberry and WP8, provides white label and customized software applications for retail line-busting and mobile field services. Our PCI and EMVCo certified ecosystem provides optimal security, reliability, convenience and return on investment for merchants, networks, issuers, processors and acquirers. For more information, please visit www.AnywhereCommerce.com.

Contacts:
Michael Kron
AnywhereCommerce
888-646-7779 x 109
www.AnywhereCommerce.com
More from Material Processing