Magnum-MD Brings Major Advantages to Medical Supply Packagers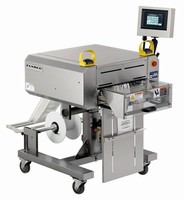 CLEVELAND, OH - From one of the biggest names in American-made packaging systems for the world, Magnum-MD Automatic In-line Bag Making and Sealing Systems are exclusively designed for packaging medical supplies-with valuable efficiency and extreme integrity.

The revolutionary Magnum line of bagging systems has been serving industries for nearly a decade with powerful advantages in material cost savings, speed, efficiency and safety, all in a notably compact design for less than competing brands typically cost. Its manufacturer, Clamco Corporation, has been a leading U.S. maker of heat-sealing and shrink-wrap packaging systems for more than 60 years.

The Magnum-MD automatically forms and seals Tyvek®, polyester, polyethylene, metallized and other barrier films including HDPE, LDPE, LLDPE, polypropylene and nylon with a chevron seal. The system maximizes savings in material cost by utilizing tube stock. It forms a vast range of pouch sizes and optimizes tube stock to offer unlimited bag lengths and reducing inventory and carry costs.

Specifically designed for medical/pharmaceutical applications, Magnum-MD uses continuous roll stock and creates the bag perforation and chevron seal inline that locks out particles in the form/fill/seal process and is equipped with a 1-micron filter to protect bag interiors and contents from airborne particulate. Magnum-MD features a solid 3/8" constant-heat seal bar, and both high/low-pressure and high/low-temperature detection that prohibits seal operations when either level is outside of preset levels. An optional dual-palm button feature enables hand loading.

Optional stainless steel construction, noncorrosive components and oil-free operation also make the Magnum-MD clean room applicable.

The base model includes programmable logic controller, self-diagnostics, gray scale monitor, funnel, stand, casters and HD foot pedal. It handles film gauges from .0015 to .004 thick, has a maximum 25"/sec. feed rate, speeds of up to 20-30 bpm, and overall dimensions of 30"L x 30"W (heights adjustable).

The Magnum-MD with Bowl Counter adds automatic counting and batching of items up to 4" sq., with one of the industry's leading speed-count systems. Standard features include: microprocessor controller, advanced part recognition software, performance feedback, self-diagnostics, memory card with capacity for up to 100 setups, simple user interface and supervisor "lock-out" security. Stainless steel construction is available as an option.

An in-line thermal transfer printer (305 dpi, Windows® driven) is available as a standard option with all Magnum-MD systems to print barcodes, date codes, part numbers and other items. Numerous Magnum-MD system upgrades, peripherals and customized options are also available from Clamco.

For complete information on the Magnum-MD or Clamco's complete equipment, contact Clamco Corporation, 12900 Plaza Dr., Cleveland, OH 44130-1079, phone 800-299-1655 or 216-267-1911, fax 216-267-8713, e-mail info@clamcocorp.com or visit www.clamcocorp.com.


More from Material Processing