Magnifying Lamps offer distortion-free LED illumination.
Press Release Summary: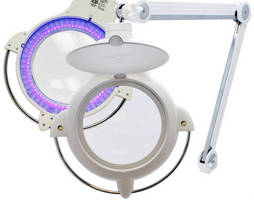 Delivering shadow-free lighting for work/inspection areas, ProVue Touch employs 108 LEDs while ProVue Touch Dual adds 72 UV LEDs and can switch between light sources via touch-sensitive switch that controls 3-stage intensity. Included 7 in., 1.75X lens (3 diopter) is supplemented by 2.25X spot lens (5 diopter), and heavy-duty metal clamp secures lamp to up to 3.5 in. thick edges. Extendable to 35 in., spring-balanced arm remains fixed in any position for hands-free magnification.
---
Original Press Release:

Aven ProVue Touch Magnifying Lamps



Include Model with UV/Bright White LEDs

ANN ARBOR, MI - High-intensity illumination and extra enlargement capability from a spot lens distinguish two new ProVue Touch LED Magnifying Lamps for engineering, fabrication, laboratory and quality control applications.

The ProVue Touch from Aven, Inc. brightens work areas with shadow-free lighting from 108 LEDs, while the advanced ProVue Touch Dual LED Magnifying Lamp adds 72 ultraviolet LEDs to the 108 white diodes.

A seven-inch 1.75x lens (3 diopter) is supplemented by a 2.25x spot lens (5 diopter) to provide higher magnification for detailed circuit board assembly, electronics repair, parts inspection, medical use and lab work.

The ProVue Touch Dual with UV lighting is suited for forensic analysis, such as detecting fraudulent identification and currency, analyzing minerals, biological studies and other tasks requiring high contrast in bright settings. Certain materials flow or fluoresce under UV examination. The ProVue Touch Dual can quickly switch between UV and White LEDs with two separate touch-sensitive switches.

A touch-sensitive switch allows three-stage intensity control of the magnifying lamps. A spring-balanced arm extends 35 inches and remains fixed in any position for hands-free magnification.

"Being able to easily position the lenses and light exactly where needed is an significant time-saver, especially in high-volume lab and industrial settings," says Mike Shahpurwala, president of Aven, a Michigan-based manufacturer of optical instruments and precision tools. "ProVue Touch supports efficiency and reduces user fatigue."

ProVue Touch Magnifying Lamps operate at 110 or 220 volts. Its patented design features a white ABS plastic housing and enclosed springs for a sleek, contemporary appearance. A heavy-duty metal clamp secures the lamp to the edge of a workbench, desktop, table or counter up to 3.5 inches thick.

Though a protective lens cover reduces damage risk, the lens is removable if replacement is needed.

Energy-saving LED technology provides distortion-free clarity without glare, hot spots or color degradation. Aven's industrial-quality ProVue Touch LED Magnifying Lamps support electronics fabrication technicians, life science researchers, educators, dermatologists and other professionals.

They also assist nail technicians, artists, jewelers, watchmakers, collectible appraisers, woodworkers, needle workers, fishing fly-tiers, rare book dealers or librarians, collectors of small objects and other hobbyists.

"Adjustability and remounting ease assure task-specific convenience," says Shahpurwala. "And the ProVue Touch LED Magnifying Lamps, like three earlier ProVue models, upholds Aven's quarter-century tradition of reliability and quality."

The sophisticated new products, available in April 2012, expand Aven's ProVue line to five magnifying lamp models.

For more information, call Aven at (734) 973-0099. A digital catalog is at http://www.aventools.com/sales-info.html.

Aven, Inc. manufactures and distributes high-performance optical instruments and precision tools for microscopy, inspection and assembly. More than 800 products include video inspection systems, integrated portable microscopes, video borescopes, task lights, stainless steel tools for lab use and precision hand tools such as tweezers, pliers, cutters, screwdrivers, crimpers, knives and alignment tools. Brands include Mighty Scope, iLoupe, iVue, Technik and Accu-Tek.

An electronics innovator since 1983, Aven is located in a high-tech corridor of Southeast Michigan and is the parent company of SharpVue, which designs and manufactures integrated digital microscope technology.

More from Architectural & Civil Engineering Products