Magnification System provides precision at varied distances.
Press Release Summary: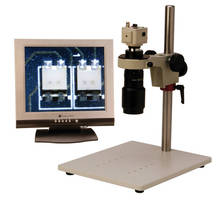 Aven Macro Zoom integrated system includes 15 in. LCD for electronic components/manufacturing parts inspection, as well as PC link and software. It features 6x macro zoom lens with adjustable iris and close-up lens that magnifies up to 71x at 5 in. working distance. Rugged, portable system's 1/3 in. CCD camera ratchets up and down and, with close-up lens, any working distance from 5-12 in. can be selected. System is available on dual arm boom stand or on standard stand.
---
Original Press Release:

Aven Macro Zoom Eases Video Inspection with Sharp Precision at Varied Distances



Advances in video inspection productivity and adaptability are achieved with the Aven Macro Zoom integrated system, which delivers high-resolution magnified images for a broad array of applications.

Images of electronic components or larger manufacturing parts can be inspected on a 15-inch LCD screen and captured via a PC link and software, all part of the workbench set. A 6x macro zoom lens with adjustable iris and close-up lens magnifies up to 71 times at a 5-inch working distance.

"This system is designed for applications needing a large field of view," says Mike Shahpurwala, president and chief marketing officer at Aven, a global distributor of precision instruments. "At a 48-inch working distance, operators can even check large samples."

The 1/3" CCD camera ratchets up and down easily, a time-saving advantage for varied tasks in high-volume settings. With a close-up lens, any working distance between 5 and 12 inches can be selected.

Aven Macro Zoom is useful in a research lab as well as on a shop floor. It's practical for life sciences studies, precise measurements, quality assurance, assembly inspection, failure or defect analysis, documentation and training. Operators can quickly check SMT solder joints, inspect machine parts and record laboratory observations. Ambient light is adequate for most tasks.

The rugged, portable magnification system is available on a dual arm boom stand for large objects or on a standard stand.

The Michigan firm also provides adapters, auxiliary lenses, lighting options and video capture cords for custom configurations.

For more information, call Aven at (734) 973-0099 or visit www.aveninc.com.

Aven will be at the Productronica 2009 international trade fair in Munich, Germany, from Nov. 10-13, 2009.

Aven, Inc. is an international source of high-performance precision tools and optical inspection systems. Product lines include alignment tools, video inspection systems, magnifiers, precision knives, pliers and cutters, illumination equipment and other workbench solutions.

An electronics innovator since 1983, Aven is located in a high-tech corridor of Southeast Michigan and is the parent company SharpVue, which designs and manufactures integrated digital microscope technology.

More from Optics & Photonics