Magnetoresistive Encoder optimizes motor drive performance.
Press Release Summary: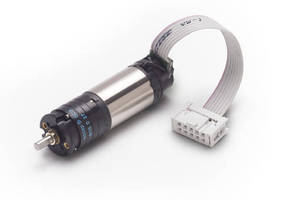 Designed to seamlessly integrate into motor shafts of Portescap motor drive systems, MR2 incremental encoder features factory-programmable resolution from 4-512 lines in steps. Unit delivers closed-loop feedback and speed control and includes maximized immunity to dust and vibration-related jitter. RoHS-compliant product is compatible with brush DC and brushless slotless/slotted DC motors of various sizes and ratios.
---
Original Press Release:

Quickly and Cost-Effectively Upgrade Motor-Drive System Performance with New MR2 Encoder from Portescap



Facilitates ease-of-integration with flexible resolution programming to deliver closed loop feedback, performance positioning and speed control

WEST CHESTER, PA - Portescap, A Danaher Motion Company, introduces the MR2 magneto resistive encoder. The MR2 incremental encoder is designed for seamless integration with Portescap motor drive systems. These encoders deliver accurate positioning at a controlled speed with factory-programmable resolution from 4 to 512 lines in discrete steps, in a compact package.

The MR2 encoder facilitates easy and cost-effective system upgrades by eliminating the rigorous test cycle qualifications for qualifying OEM machine parts, as the MR2 encoder package remains the same regardless of the desired resolution. As a result, machine builders will realize improved value and lower cost of ownership due to the MR2's ability to support multiple generation product upgrades, with a simple factory programming adjustment, to deliver higher resolution performance.

"Portescap's expertise in miniature motor solutions is reflected in the design of our MR2 magneto resistive encoder. The MR2 can be seamlessly integrated to the motor shaft, thus facilitating smaller package size for integrated motor assemblies. It is highly immune to dust and vibration-related jitter compared with other technologies. In fact the MR2 encoder can reduce jitter by up to 60-70% compared with other incremental encoders for a more compact, higher performing machine," says Anil Alex, Portescap Brush DC Product Line Manager.

The MR2's significantly reduced jitter delivers a cleaner signal for faster signal processing with improved positioning and speed control.

The MR2 encoder is an ideal performance positioning and speed control solution for medical, security and access, industrial automation, and electronics assembly related applications. For machine builders in these industries, a system design can be implemented with a lower line count of 128 lines for first generation products, and upgraded to a higher resolution line count of 512 lines for future generation products, all without any motor-encoder assembly change.

MR2 encoders are compatible with brush DC, brushless slotless DC and brushless slotted DC motors of various sizes and ratios. They are manufactured in an ISO certified facility, and are RoHS compliant. Contact Portescap's application and sales support team to provide additional specifications and rapid prototype samples.

About Portescap

Portescap offers the broadest miniature and specialty motor product line in the industry, encompassing coreless brush DC, brushless DC, stepper can stack, gear heads, digital linear actuators, disc magnet and hybrid technology. Portescap products have been solving diverse motion control needs in medical, semiconductor, HVAC/R, aerospace and commercial applications for more than 70 years. Portescap has manufacturing centers in the United States, St. Kitts, Malaysia, and India and utilizes a Global Product Development network with research and development centers in the United States, India, Singapore, and Switzerland.

Portescap, A Danaher Motion Company, 110 Westtown Road, West Chester, PA 19382; 610-235-5499; fax: 610-696-4598; sales.america@portescap.com; www.portescap.com.

Leads: Email or send all leads to: portescapleads@iqsalespro.com. Portescap Lead Handling, 110 Westtown Road, West Chester, PA 19382. Please identify leads with item code POR521 for fastest lead processing.

Overview:

PORTESCAP

MR2 512 Encoder

The MR2 encoders are designed with accurate positioning at a controlled speed with high resolution in a compact package.

Supply Voltage

4.5/5.5V min/max

Output

2-3 Channels

Square wave in quadrature

Optional reference

Resolution

4 to 512 lines per revolution

Key Features

o Increased resistance to dust and vibration related jitter

o Accuracy in speed and position feedback

o Mounts on motor rear shaft, facilitating compact encoder integration

o Excellent resolution for closed loop feedback and accurate positioning

More from Fluid & Gas Flow Equipment