Level Sensors / Detectors / Transducers
Magnetically Operated Reed Sensor comes in capsule package.
Press Release Summary: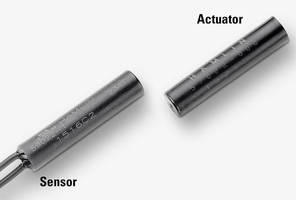 Capable of switching up to 265 Vac/300 Vdc at 10 W/VA, 59022 Series Firecracker Reed Sensor is designed for use with 57022 actuator and available with NO, NC, or change-over contacts. Sensor can operate through non-ferrous materials, and hermetically sealed contacts suit high-moisture and contaminated environments. Suited for position and limit sensing, security, level sensing, and linear actuator applications, cylindrical 25.4 x 5.8 mm sensor offers custom cable length and connector options.
---
Original Press Release:

Littelfuse Expands Sensor Product Line with Compact, Magnetically Operated Reed Sensor in Popular Capsule Package



Ideal for use in position and limit sensing, security, level sensing, and linear actuator applications



CHICAGO – Littelfuse, Inc., the global leader in circuit protection, has introduced the 59022 Series Firecracker Reed Sensor, a compact, cylindrical, magnetically operated sensor capable of switching up to 265 Vac/300 Vdc at 10 Watt/VA. The new sensor's diameter of just 5.8 mm (0.228 inches) makes it easy to install into confined spaces in existing structures. It is designed for use with the matching 57022 actuator, which is sold separately. Circuit designers have the flexibility to choose from normally open, normally closed or change-over contacts.



Typical applications for the 59022 Series Firecracker Reed Sensor include:



Position/limit sensing for door closures in appliances, smart home automation systems, security systems, metering and industrial equipment.



Level sensing for liquid level detection in coffee makers, washing machines and dishwashers.



Speed and distance measuring/sensing found in fitness equipment such as treadmills and stationary bicycles.



Linear actuators.



"This new reed sensor expands our portfolio of design offerings and provides a sensing solution in a popular form factor that is quick and easy to install," said Will Li, global product manager for the 59022 Series line. "It also offers a variety of cable length, connector and sensitivity options, so it's readily adaptable to many different applications."



The 59022 Series Firecracker Reed Sensor offers these key benefits:

Its 25.4 mm x 5.8 mm form factor fits easily into small, confined spaces.



Because it is a magnetically operated proximity sensor, installation is quick and easy.



Its hermetically sealed contacts are well suited for use in high-moisture and contaminated environments.



Because it can operate through non-ferrous materials (such as wood, plastic or aluminum) it offers a non contact solution that's more aesthetically appealing than push button or lever mechanical-type switches.



Normally open, normally closed and change-over contacts options are available, which makes it ideal for battery-powered applications because the contacts do not draw power when in the non-activated state.



Excellent for switching micro-controller logic level loads.



Custom cable length and connector options make it easy to adapt to customers' specific application requirements.



Availability

The 59022 Series Firecracker Reed Sensor is available in quantities of 100 pieces in a box, with a minimum order quantity of 500. Sample requests can be placed through authorized Littelfuse distributors worldwide. For a listing of Littelfuse distributors, please visit Littelfuse.com.



For More Information

Additional information is available on the 59022 Series product page. If you have technical questions, please contact: Will Li, Global Product Manager–Sensors, wli@littelfuse.com.



About Littelfuse

Founded in 1927, Littelfuse is the world leader in circuit protection with growing global platforms in power control and sensing. The company serves global customers in the electronics, automotive and industrial markets with technologies including fuses, semiconductors, polymers, ceramics, relays and sensors. Littelfuse has over 8,000 employees in more than 35 locations throughout the Americas, Europe and Asia. For more information, please visit the Littelfuse website: littelfuse.com.



Media Contact:

Rhonda Stratton

Global Marketing Communications Manager

Electronics Products, Littelfuse, Inc.

773-628-0644

rstratton@littelfuse.com

https://twitter.com/littelfuse

More from Non-Industrial Products