Magnetically Driven Pumps offer dry-run bearings.
Press Release Summary: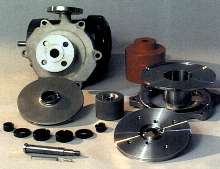 Silicon carbide (SiC-D) bearings, available in Magnatex® MP, MMP, MPT, and MPH pumps, have surface treatment that reduces friction coefficient and diminishes harmful effect of heat shock during dry-run conditions and start-ups. Chemical-resistant products operate in dry-run condition for 105 min with no cracks or breaks and show no signs of heat-shock damage after operating for 1 hr under dry-run conditions in temperatures to 320°F.
---
Original Press Release:

New Dry-Run Bearings Now Available in Magnatex Pumps for Extended Run Life


Houston, Texas, USA, May 10, 2004 - Magnatex® Pumps, Inc. is now offering as standard, new silicon carbide dry-run (SiC-D) bearings in Magnatex® MP, MMP, MPT and MPH pumps to enhance performance and extend run life. A proprietary treatment strengthens the surface of the bearings and provides a significantly reduced friction coefficient for superior performance during dry-run start-ups. The Magnatex dry-run bearings diminish the harmful effect of heat shock that other mag-drive pumps experience during dry-run conditions, preventing bearing breaks and cracks that impact operation and increase maintenance costs.

Using Magnatex dry-run bearings enhances the overall performance and reliability of Magnatex pumps while adding strength to dry-run resistance at pump start-up. Magnatex dry-run bearings provide a super hard, super smooth surface that generates the least amount of surface heat while maintaining chemical resistance that is identical to regular SiC bearing construction.

When compared to regular SiC bearings in actual side-by-side testing, the Magnatex dry-run bearings:
o Operated in a dry-run condition for 105 minutes with no cracks or breaks while cracks and breaks were clearly observed with regular SiC bearings in less than one minute.
o Showed no signs of heat-shock damage when room temperature water was added after operating for I hour under dry-run conditions, with temperatures up to 320°F.

Magnatex MP, MPT and MPH magnetically driven, sealless, close-coupled pumps are designed to handle medium-flow, medium- to high-head applications, utilizing standard C-face motors. Magnatex MMP series pumps, designed specifically for low-flow, low-head applications, are magnetically driven, sealless, centrifugal pumps providing efficient, leak-free pumping.

Located in Houston, Texas, Magnatex® Pumps, Inc. offers Magnatex® brand metallic sealless mag-drive pumps and Texel® brand fluoropolymer-lined sealless mag-drive pumps for handling a wide range of corrosive and toxic applications in the chemical, petrochemical, semiconductor, pharmaceutical, cosmetics, refining, food & beverage, pulp & paper, textile and power generation industries.

More from Electronic Components & Devices